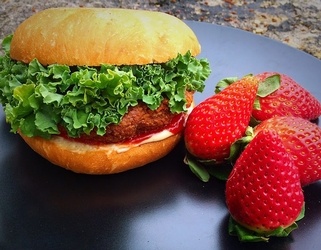 Sweet Potato Burger ThumbnailThis recipe is a sweet and savory treat for one of those times that you just want to chow down on a big burger! You can make these healthy burgers with your kids and because it doesn't include any meat or eggs, there isn't the risk that they will accidentally ingest unsafe raw ingredients, unless of course you substitute to the flax meal for an egg.
The addition of quinoa (pronounced Keen-wah) adds a boost of protein. It's exceptionally high in protein for a grain and includes a full spectrum of amino acids. It's also high in antioxidants, and magnesium, an essential nutrient in almost every biological process in the body. The great news for more magnesium is that is acts as a natural muscle relaxer so say bye-bye to tight shoulders and stress!
Besides being tasty, sweet potatoes are high in beta carotene which helps your body build protection against heart disease. Despite being sweet when cooked and generally kid friendly and kid approved, sweet potatoes do not spike blood sugar levels and are considered beneficial for diabetics. You can read
Now for the recipe! Click the highlighted words in the recipe to dive deeper into the health benefits of each ingredient. Explaining these benefits for each item as you make these with your kids can go a long way in helping them to learn how to make healthy food choices.
2 Sweet potatoes mashed
½ cup of Quinoa (substitute with brown rice)
1/3 cup of oat flour
1 tbsp. of nutritional yeast (optional)
¼ cup of walnuts (substitute with another nut or with additional flour)
¼ cup of pumpkin seeds (substitute with another nut or with additional flour)
1 tbsp. of flax meal whisked with 3 tbsp. of water (substitute with one egg)
1/3 cup of bread crumbs (I baked an extra whole wheat bun and put it in the blender once it was crusty)
2 garlic cloves
1 ½ tsp. of smoked paprika
1 tsp. of onion powder
1 tsp. of salt
½ - 1 tsp. of cayenne pepper
¼ tsp. of chili powder
2 tsp. of Steen's syrup or Molasses (optional)
Pierce the sweet potatoes all over with a fork and microwave them each for 5 minutes on each side. It should be easy to scoop the sweet potato out with a spoon. While the sweet potatoes are cooking, prepare the quinoa. Add ½ cup of quinoa to 1 cup of water and bring water to a boil. Once the water is boiling, reduce to a simmer and cover the pot and allow the quinoa to cook until the water is absorbed and the quinoa is fluffy. Cooking quinoa is similar to cooking rice. Finely chop or blend the nuts in a blender. Add all of the remaining ingredients to one bowl and combine with the quinoa and sweet potatoes. Refrigerate the dough for 15- 20 minutes to make it easier to handle and form into patties. Line your pan with parchment paper or aluminum foil and bake for 25 minutes. Flip the patties mid-way for evenly cooked patties. Serve on whole wheat buns. These delicious burgers taste great with traditional toppings like ketchup and mayonnaise, but they are exceptionally delicious with gourmet toppings like fresh avocado, lettuce, shredded cabbage and carrots, grilled onions or my favorite, this garlic roasted aioli sauce in the recipe below. Enjoy!
Garlic Roasted Aioli sauce
1/2 cup cashews soaked overnight or boiled until soft
1 head of roasted garlic
1 tsp. Dijon mustard
1 pinch of salt
1 tbsp. of lemon juice
2 tablespoons olive oil
Squeeze the roasted garlic from the pods once it has cooled into a blender with the other items. Add water 1 tbsp. of water at a time as you blend until you get the desired consistency.