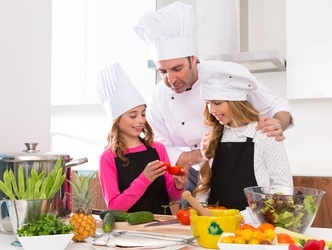 WebMD research indicates that children who eat home-cooked meals are less likely to be overweight. Home-cooked meals are typically more balanced and include more fruits and vegetables and have less trans-fat. It was also reported that kids who enjoy home-cooked meals are generally happier and less disposed to eating disorders as they get older.
It's time we get back to cooking at home and teaching our children this important life skill. Convenience foods are robbing our children of their health and we aren't equipping them with the tools to be in control of their future. It's easy with a little preparation to get back to the kitchen and better health.
1. Take Your Kids Shopping.
Taking your kids shopping can be quite a chore, but teaching your kids how to shop and giving them some of the control over the selections will give them the opportunity to explore new fruits and vegetables and learn the nutritional benefits of each item. Give them the freedom to choose something new and then look up a fun recipe when you get home using this new item. If your kids are old enough, teach them how to read nutritional labels or if they aren't old enough, explain why you should buy one item over the other in ways that they can understand.
2. Create a Meal Plan and a Budget
When we teach our children how to create meal plans and live on a budget we set them up for success. They will learn to look at food as nutrition and not as entertainment or an empty activity that we do to alleviate stress. Meal planning will allow you to schedule cooking around your families weekly activities and you will be more likely to stay within your food budget if you aren't running to the store every day.
3. Play with herbs and spices.
Herbs and spices can really make food come to life, something that we embrace as Cajuns. There are incredibly unique combinations of spices and herbs from cultures all around the world! If you don't believe me, just give Indian food a try. Allow your kids to experiment with spices, smelling and tasting each one. Make it a history lesson! Look up the spices to see what cultures use them and find recipes that will showcase them. This will touch your child's natural curiosity and bring some fun into the kitchen!
4. Make your dishes art.
Part of the fun of going to a restaurant is the presentation. Carefully arranged veggies and meticulously placed proteins make ordinary foods much more exciting. Let your kids decorate the table or arrange the veggies family style. Some fun ideas include theme dinners and throwing a party on a regular day. Meal time should be fun! Break out the chopsticks and streamers and get creative!
5. Serve dessert.
Dessert doesn't have to be loaded with high fructose corn syrup or highly processed ingredients. Popsicles can be made with real fruit and yogurt and ice cream can be made with bananas! Click the links below for healthy dessert ideas. Having a specific time that the family eats sweet treats will give everyone something to look forward to and will cut down on excessive consumption of unhealthy snacks during the day.
http://happyherbivore.com/recipe/vegan-blackbean-brownies/
http://www.momables.com/chocolate-avocado-pudding/
http://www.myfussyeater.com/chocolate-vanilla-banana-ice-cream/