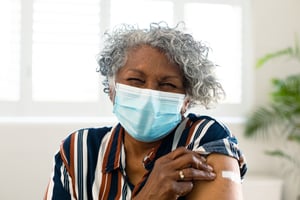 Pneumonia is a potentially dangerous infection of one or both lungs that occurs as the result of bacteria, virus, or fungi. The most commonly infected groups are children under the age of 2 and adults aged 65 and older. For these groups, pneumonia is more likely to cause serious complications and lead to hospitalizations. In total, nearly 1 million Americans are hospitalized every year, and up to 50,000 die from pneumonia. Fortunately, vaccines exist to help protect these most high-risk groups.
Which Pneumococcal Vaccines are Available?
Currently, there are two pneumococcal vaccines approved by the Food and Drug Administration (FDA) for use in the United States.
PCV13 (Prevnar 13®) – The PCV13 vaccine protects against 13 types of bacteria that commonly lead to serious cases of pneumonia. This shot is most frequently given to children under the age of two. It may also be used for adults, but this is less common. In adult patients, a single shot is given, while children receive separate doses at 2, 4, 6, and 12 through 15 months of age.
PPSV23 (Pneumovax23®) – The PPSV23 vaccine is used primarily in adults 65 and older. However, it may also be used in anyone over the age of 2 who meets certain medical criteria. It protects against 13 common strains of pneumococcal bacteria and is given in a single dose. For patients who suffer from certain chronic conditions, 1 or 2 additional doses may be recommended.
How Well do Pneumococcal Vaccines work?
Each of these vaccines work well for their target populations. For adults, the PPSV23 is particularly useful, having been shown to prevent invasive pneumococcal disease in anywhere from 10 to 17 out of 20 healthy adult patients. The PCV13 vaccine works best for infants, protecting at least 8 out of 10 babies from invasive pneumococcal disease.
Pneumococcal Vaccines in Baton Rouge
If you are the parent who is considering a pneumococcal vaccine for your child, consult with a pediatrician like those at Lane Pediatrics regarding your planned vaccine schedule. As PCV13 is included among routine childhood vaccines, it is likely that your child either already has or is scheduled to receive this shot. Adults who are of the appropriate age or who have certain medical conditions and wish to receive the vaccine can learn more and schedule their vaccine appointment with a provider at Lane Family Practice.