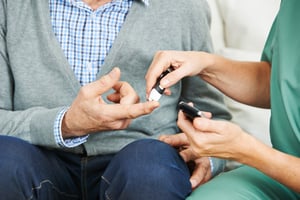 Over 30 million people in the United States are living with diabetes today. Managing diabetes requires some changes to your daily routine, but it can be well managed at home with the proper guidance. Take a look at some of the steps you can take to be sure you're maintaining a safe and healthy lifestyle.
How can I manage my diabetic diet at home?
The first thing to learn when managing your diet with diabetes is how certain foods impact your blood sugar level, such as carbohydrates and portion sizes to keep your blood sugar from spiking. You will need to be able to monitor your blood sugar levels from home to do this. In cases of low blood sugar, having fresh fruit or fruit juice on hand will give you a healthy option to raise your blood sugar when necessary. When planning your meals, be sure to consider what, if any, medications need to be taken with food and plan accordingly.
What types of exercises should I do with diabetes?
Before beginning any exercise program as someone with diabetes, consult with your doctor to ensure it's the right program for you. In general, aim for at least 30 minutes of moderate exercise per day. Set a schedule for yourself to make it easier to stick to a routine. Check your blood sugar before, during, and after your workout, as exercise can impact your sugar levels.
How should I manage my medication for my diabetes?
Sometimes modifying your diet and exercise are not enough to manage your diabetes, and insulin or other medication may be prescribed. If you're prescribed insulin, be sure to follow directions on storing it at proper temperatures to maintain its effectiveness. Report any issues or side effects to your doctor, should you experience any. Also, talk to your doctor before introducing new over-the-counter medications to your routine.
Can I drink alcohol or use tobacco products if I have diabetes?
With your doctor's permission, alcohol can be consumed in a moderate and responsible manner. Be mindful of your choices; some alcoholic beverages can be extremely high in sugar content. Never drink on an empty stomach, and be sure that any medications you are on are not complicated by drinking alcohol. If you smoke or use tobacco products, it is in the best interest of your health to quit. Smoking can decrease blood flow, especially to your legs and feet, and is known to cause other severe health complications. Your doctor can help you come up with a plan to help you stop smoking.
Living with diabetes doesn't mean that you have to cut out the things that bring you enjoyment. With guidance from your doctor and careful at-home planning, you can continue enjoying life to its fullest. If you or a loved one is homebound and needs help managing diabetes, the professionals at Lane Home Health can help.