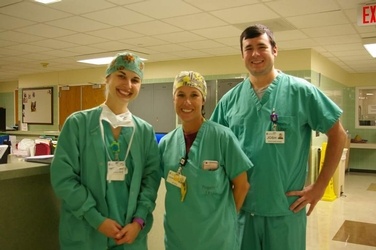 Today marks the end of National Hospital Week, a week dedicated to local hospitals and the men and women who work tirelessly to bring compassion and quality healthcare to their communities. Within Lane Regional Medical Center, we have many such individuals who have dedicated their careers to improving the lives and health of others. They do everything from schedule appointments to cook meals to perform surgery, and regardless of title they are all a part of an incredible group of every day heroes.
If you have ever required a hospital stay or emergency care, you are well aware of the difference a caring and dedicated team can make. While a medical team can speed recovery and save lives, a warm presence and compassionate demeanor can help put nerves at ease even in the most uncertain of circumstances.
At Lane, we are proud to have team members who fall into both of these categories. In their honor, here are just a few examples of the praise they have received:
I am alive today because of Lane. When others had given up, Lane and their doctors did not give up.
- Kenneth S.
From emergency to ICU to my room, everyone encountered was professional, courteous and so kind…I commend every employee in every department.
- Jimmy B.
I've always been treated with dignity and respect when at Lane.
- Jerry B.
Louisiana is blessed to have a place such as this serving us.
- Rhonda A.
Due to the overall professionalism of the support staff, nurses, and physicians, I will recommend LRMC to my friends and family.
- David C.
I had very fast help, and the doctor, who was already on his way home, turned around and came back to take care of me. He saved my life.
- Vera A.
For Lane Regional Medical Center, there is no greater commitment than the one we have made to protect the health and wellbeing of our community. These testimonials represent just a handful of the many grateful patients who have taken time to commend the LRMC staff. Read more of our patient stories by clicking here, and if you have your own story to share, we'd love to hear it! Just click here, and tell us why you love Lane!