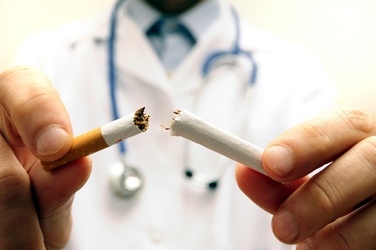 "Commit to Quit" is a smoking and tobacco cessation program provided by Cardiovascular Institute of the South. If you or someone you love smokes or uses tobacco and wants to quit, then "Commit to Quit" can help you successfully kick the habit. Call 1-877-288-0011 or visit Cardio.com/QuitSmoking.
Tobacco use leads to disease and disability.
Smoking causes cancer, heart disease, stroke, and lung diseases (including emphysema, bronchitis, and chronic airway obstruction).
For every person who dies from a smoking-related disease, 20 more people suffer with at least one serious illness from smoking.
Tobacco use is the leading preventable cause of death.
Worldwide, tobacco use causes more than 5 million deaths per year.
Current trends show that tobacco use will cause more than 8 million deaths annually by 2030.
In the United States, tobacco use is responsible for about one in five deaths annually (i.e., about 443,000 deaths per year, and an estimated 49,000 of these smoking-related deaths are the result of secondhand smoke exposure).
On average, smokers die 13 to 14 years earlier than non-smokers.
Tobacco use costs the United States billions of dollars each year.
Cigarette smoking costs more than $193 billion (i.e., $97 billion in lost productivity plus $96 billion in health care expenditures).
Secondhand smoke costs more than $10 billion (i.e., health care expenditures, morbidity, and mortality).
Health Benefits of Cessation
Breaking free from nicotine dependence is not the only reason to quit smoking. Cigarette smoke contains a deadly mix of more than 7,000 chemicals; hundreds are toxic and about 70 can cause cancer. Cigarette smoke can cause serious health problems, numerous diseases, and death. Fortunately, people who stop smoking greatly reduce their risk for disease and premature death. Although the health benefits are greater for people who stop at earlier ages, cessation is beneficial at all ages.
Smoking cessation is associated with the following health benefits:
Smoking cessation lowers the risk for lung and other types of cancer.
Smoking cessation reduces the risk for coronary heart disease, stroke, and peripheral vascular disease. Coronary heart disease risk is substantially reduced within 1 to 2 years of cessation.
Smoking cessation reduces respiratory symptoms, such as coughing, wheezing, and shortness of breath. The rate of decline in lung function is slower among persons who quit smoking.
Smoking cessation reduces the risk of developing chronic obstructive pulmonary disease (COPD), one of the leading causes of death in the United States.
Smoking cessation by women during their reproductive years reduces the risk for infertility. Women who stop smoking during pregnancy also reduce their risk of having a low birth weight baby.