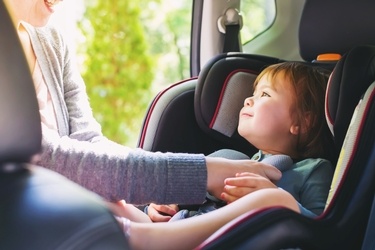 To say that the task of parenting can be overwhelming would be an understatement. From the time of conception, parents must consider their every action, or lack thereof, and how it may potentially impact their new baby. From what an expectant mother eats to where a newborn will sleep, there are countless factors that ultimately play a role in the safety and wellbeing of your child.
September marks National Baby Safety Month, and as we continue to hear tales of children who have been left in hot cars or have otherwise been lost under preventable circumstances, we must take into consideration the many ways in which the safety of our children is challenged each and every day. Continue reading to gain some insight into common childhood safety risks and the steps you can take to avoid them.
Medication Safety – Today, there are billions more prescriptions filled than there were 20 or 30 years ago. The potential for a child to ingest a medication is exponentially higher than it was when their own parents were children. Children are finding medication in pill boxes, on the floor, in purses and bags, and in medicine cabinets. These interesting little pills and liquids are interesting and may look like candy or juice to small, curious minds. Childproof caps can help but certainly are not enough of a barrier to guarantee safety. Take additional precaution by always making sure that medications are far out of reach.
Furniture Safety – Heavy furniture and televisions pose an imminent risk to toddlers and young children who are prone to climb. In the U.S., a child dies every 3 weeks from a television tip over, and an ER visit occurs hourly for the same reason. Anchoring furniture such as dressers and flat-panel TVs to a wall will help ensure their stability should your little one ever decide to climb. As for older, box-style TVs, place them on a low and sturdy piece of furniture, appropriately proportioned for both the TV's size and weight.
Poison Prevention – Household cleaners, personal care products, and laundry or dishwashing detergents are common sources of accidental poisoning among small children. These products, although innocent enough for adults, may pique the curiosity of a young child, particularly laundry packets which have accounted for roughly one call per hour to poison control since 2012. Simple safety locks installed on cabinets are highly effective at preventing access to such substances. Ensure that anything that poses a potential poison risk is kept behind childproof locks, and save the number of the poison control hotline, 1-800-222-1222.
Car Safety – It is estimated that 73 percent of car seats are not properly installed or used. Parents mean well, but even the smallest oversight can make a significant difference in the outcome of an accident. Currently, auto accidents are the leading cause of death among children in the U.S.. Fortunately, many police or fire departments offer free car seat inspections to ensure that they have been installed properly. Additionally, there are many resources online, such as CDC.gov, to help parents decide which type of seat their child should be using and when.
Unfortunately, the safety concerns listed here are not the only ones facing parents. There are also concerns surrounding water safety, sleep safety, fire safety, and more. To explore a comprehensive list of potential child safety concerns and tips, click here.
6550 Main Street
Suite 2000
Zachary, LA 70791
(225) 658-1303