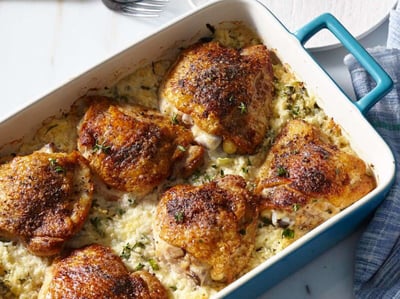 This Chicken and Cauliflower Rice Casserole is all the proof you need that cauliflower can be comforting. It's definitely creamy, thanks to multiple types of cheese, but still has a good bite from the cauliflower rice's texture. You can make your own cauliflower rice by pulsing the florets and stem in a food processor, or you can buy it fresh or frozen at most grocery stores. Dry your chicken skin and brown it before placing the dish in the oven and cook it skin-side up for the crispiest skin possible. Serve with green beans, asparagus, or another spring vegetable.
Active time: 20 min.; Total time: 1 hour, 10 min.; Yield: Serves 6; Serving size: 1 chicken thigh and about ¾ cup cauliflower
Ingredients:
6 bone-in chicken thighs, trimmed and patted dry (about 1.75 pounds)
1 1/2 teaspoons kosher salt, divided
1 teaspoon ground black pepper, divided
1/2 teaspoon paprika
1 tablespoon canola oil
24 ounces cauliflower rice
1/2 cup whole milk
4 ounces gruyere cheese, shredded
2 ounces parmesan cheese, grated
3 tablespoons chopped fresh flat-leaf parsley, divided
1 1/2 tablespoons chopped fresh tarragon, divided
1 1/2 tablespoons chopped fresh thyme, divided
How to Make It:
Preheat oven to 375°
Sprinkle chicken with ½ teaspoon salt, ½ teaspoon pepper and paprika.
Heat oil in a large skillet over medium-high heat.
Add chicken, skin side down, to pan; cook 5-6 minutes or until skin is very crispy.
Turn chicken over and cook 1 minute. Remove from pan.
Combine cauliflower, remaining 1 teaspoon salt, remaining ½ teaspoon pepper, milk, cheeses, 2 tablespoons parsley, 1 tablespoon tarragon and 1 tablespoon thyme in a medium bowl, stirring to combine.
Add cauliflower mixture to a 2-quart baking dish. Nestle chicken into cauliflower mixture with skin side up.
Bake at 375° for 45-50 minutes or until chicken is done.
Sprinkle with remaining 1 tablespoon parsley, ½ tablespoon tarragon and ½ tablespoon thyme.