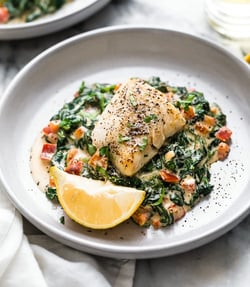 This easy Fish Florentine recipe, made with a pan seared firm white fish served on a creamy bed of spinach feels like something you would order out in a fancy restaurant!
PREP TIME: 5 minutes; COOK TIME: 15 minutes; TOTAL TIME: 20 minutes
INGREDIENTS:
4 - 5 ounces thick pieces of skinless white firm fish fillet (such as grouper, bass or halibut)
1 tablespoon extra-virgin olive oil
1 tablespoon salted butter
1 cup red bell pepper chopped
2 cloves garlic minced
9 ounces fresh baby spinach, from two bags
2 ounces 1/3 less fat cream cheese
1/4 cup half & half cream
3 tablespoons grated Parmesan cheese
kosher salt
fresh black pepper
INSTRUCTIONS:
In a large skillet over medium heat add 1/2 tablespoon of olive oil, 1/2 tablespoon of butter, red bell pepper and garlic. Cook for about 4 minutes.
Add spinach. Season with a pinch of salt and pepper. Mix until the spinach wilts down.
Add cream cheese, half & half and parmesan cheese. Mix well until cream cheese is melted and resembles creamed spinach.
Heat a separate skillet on medium high heat. Add remaining oil and butter.
Season fish on both sides with salt and pepper and place on the hot pan.
Cook fish 6 minutes on first side, then flip fish over and cook other side an additional 5 minutes, until cooked through and browned.
Divide the spinach mixture on the bottom of each plate and top with piece of fish.
NUTRITION INFORMATION:
Serving: 1 fish filet with scant 1/2 cup spinach,
Calories: 351, Carbohydrates: 6g, Protein: 43g, Fat: 16.5g, Saturated Fat: 6.5g, Cholesterol: 78mg, Sodium: 300mg, Fiber: 2g, Sugar: 2g