Lane Regional Medical Center employees are receiving COVID-19 vaccines beginning today. The hospital is distributing the Pfizer-BioNTech COVID-19 Vaccine which includes two doses to achieve maximal effectiveness of the vaccine. The second dose will be administered three weeks following the first dose.
The initial shipment 150 doses of the vaccine has been prioritized for front-line healthcare workers and additional Lane staff members who want to receive the vaccine. Lane does not require employee vaccination for COVID-19 but does encourage staff to consider taking it. Educational information was provided to employees to help them make an informed decision.
"We've provided as much information as possible to our employees so they can make their own informed and educated decision about taking the vaccine," says Neil Manuel, director of Quality Resources. "I personally believe it is better to deal with any possible short term side-effects and be vaccinated than to not be vaccinated and end up being diagnosed with COVID-19, which could be life-threatening or at the very least, potentially spread to others."
Given the evidence of ongoing COVID-19 infections among healthcare personnel and the critical role they play in caring for others, continued protection of them at work, at home, and in the community remains a national priority. Early vaccine access is critical to ensuring the health and safety of this essential workforce of approximately 21 million people, protecting not only them but also their patients, families, communities, and the broader health of our country.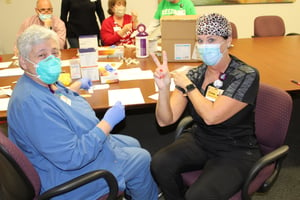 PHOTO:
Aaron Hutchinson, an RN on the Intensive Care Unit, and respiratory therapist Cindy Conerly were the first two frontline healthcare workers to receive the COVID-19 vaccine at Lane Regional Medical Center. Both have been caring for COVID-19 patients since March.