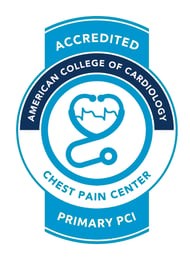 Lane Regional Medical Center has earned full accreditation with Percutaneous Coronary Intervention (PCI) from the American College of Cardiology.
By receiving Chest Pain Accreditation, Lane has achieved a higher level of expertise in treating patients who arrive with symptoms of a heart attack as well as streamlining processes for admission, evaluation, diagnosis, treatment, discharge, and post-discharge care.
To become an Accredited Chest Pain Center, Lane Regional Medical Center engaged in a rigorous evaluation of the staff's ability to evaluate, diagnose, and treat patients who may be experiencing a heart attack, ensuring processes are in place to meet strict criteria aimed at:

Reducing the time from onset of symptoms to diagnosis and treatment
Treating patients more quickly during the critical window of time when the integrity of the heart muscle can be preserved
Monitoring patients when it is not certain that they are having a heart attack to ensure that they are not sent home too quickly or needlessly admitted to the hospital
The team at Lane earns high marks with 100% of acute myocardial infarction patients receiving PCI treatment with an average door-to-balloon time of 30 minutes or less. The national average is 90 minutes or less.
PCI, also known as angioplasty, is a non-surgical procedure that opens narrowed or blocked coronary arteries with a balloon to relieve symptoms of heart disease or reduce heart damage during or after a heart attack.
Door-to-balloon time is a quality measure indicating the amount of time between a heart attack patient's arrival at the emergency room to the time that patient's blocked artery is reopened in the catheterization lab.
"People tend to wait when they think they may be having a heart attack, and that's a mistake," says Laura Peel, Director of Lane Cardiovascular Center. "The average patient arrives in the ER more than two hours after the onset of symptoms, but what they don't realize is that the sooner a heart attack is treated, the less damage to the heart and the better outcome for the patient."
More than 730,000 Americans suffer a heart attack each year. The most common symptom of a heart attack for both men and women is chest pain or discomfort. Atypical symptoms include tingling or discomfort in one or both arms, back, shoulder, and neck or jaw, as well as shortness of breath, cold sweat, unusual tiredness, heartburn-like feeling, nausea or vomiting, and sudden dizziness or fainting.
Lane Regional Medical Center leads the way in cardiac care in the region with the latest equipment and technology, as well as a partnership with the region's leading cardiovascular specialists at Cardiovascular Institute of the South. For more information or to make an appointment with a cardiologist, please call 225-654-1559.
PHOTO: Members of Lane Regional Medical Center's Chest Pain Accreditation Committee include Brittany Casey, Angie Clouatre, Marina Russo, Laura Peel, Cheryl Castello, Eric Rome, Lisa Oliveaux, Staci Sullivan, Karen Burgess, and Greg Dickinson.