The architect design team was recently on site with life-sized cardboard mock-ups of key rooms for staff and physicians to review. These mock-ups allowed staff to see the new room layouts, including where vital gas and oxygen components, power outlets, and light switches are to be placed. They then gave feedback to modify placement for staff efficiency, patient care functionality, and patient comfort.
Detailed finish and furniture reviews are planned for January 2022.
Construction estimates will be finalized once the construction manager reviews the final design development documents and confirms quantity of casework/cabinets, power, medical gas, etc.
Groundbreaking is still estimated to begin in summer 2021 and the 4-story tower to be completed in spring 2024.
In the meantime, behind-the-scenes work continues, such as:
· Fire code analysis and updates needed
· Lift-station/sewage pump upgrade/planning with the city
· IT network evaluation & upgrade
· Traffic impact study
· Medical equipment assessment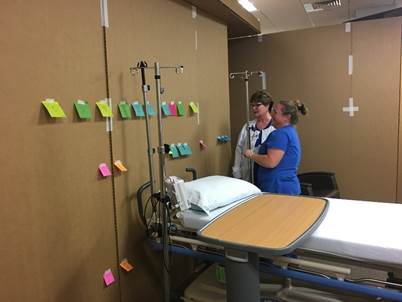 Kris Fryoux and Margaret Moore study the new patient room design and layout.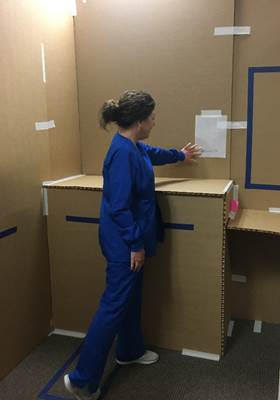 Courtney Day considers the new patient bathroom floorplan.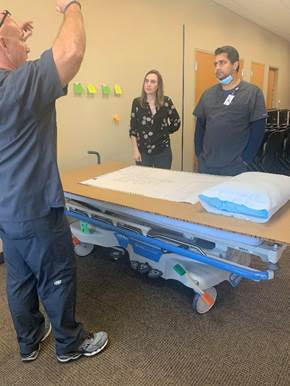 Jason Gwyn and Dr. Patel envision the new endoscopy room layout with the architect.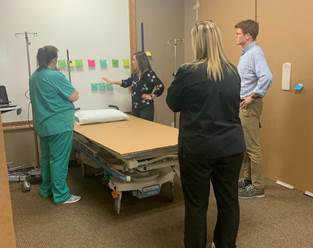 Renee Story and Lori Carruth comtemplate the new recovery room arrangement.
Expansion Update - March 2021
Lane recently put out a request for proposal to hire a Construction Manager to deliver the Expansion project at a guaranteed maximum price, including demolition of existing buildings to allow construction of a new four-story patient tower, renovations of the existing surgery department, and renovations of the first floor.
The Selection Committee received five proposals from area construction companies, two were selected and interviewed as final candidates, and one was recommended to the Board for final approval.
At the March 29th Lane Board meeting, the Milton J. Womack, Inc construction company was approved as the Construction Manager for the project.
Groundbreaking is estimated to begin in summer 2022 and the new 4-story tower to be completed in spring 2024.
In the meantime, behind-the-scenes work continues, such as:
Fire code analysis and updates needed

Lift-station/sewage pump upgrade/planning with the city

IT network evaluation & upgrade

Traffic impact study

Schematic design process

Medical equipment assessment
Members of Johnson, Johnson, & Crabtree Architects are on site to look at departmental equipment needs, as well as continue meetings to discuss layout, flow, and design.
You may have noticed colored flags/markings all around the hospital's campus. These are used to identify where the different underground utilities are located:
Purple – storm drains

Red – electricity

Orange – communication

Yellow – gas

Blue – water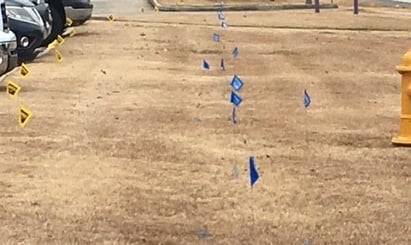 ---
Lane Announces Hospital Expansion Project
In February 2019, Lane Regional Medical Center's Board of Commissioners held a strategic planning meeting to approve a $50M expansion project in support of Lane's vision to become the best community healthcare system in the nation.
Today, with financial support from the United States Department of Agriculture (USDA), this four-year hospital expansion project is underway and will give Lane an updated facility focused entirely on patient-centered care.
Major changes to the hospital include:
New four-story tower to house state of the art Surgery Department double its current size, featuring larger surgery suites and outpatient surgery areas
48 expansive new patient rooms
Relocation of patient Registration and Pre-Admission to the front entrance to streamline patient flow
Expanded Lab and Imaging areas
Modernized front entrance
The firm of Johnson Johnson Crabtree Architects was hired to oversee the project which is currently in Phase 1 - a 12-month design process with input from department leaders, team members, and physicians.
Ground breaking for the first four-story building in Zachary is slated for the spring of 2022.
"We are excited about the project because it expands Lane's ability to provide exceptional healthcare service to every patient, every time," said board chair Gaynell Young. "The USDA is investing more than $66 million to assist Lane in expanding access to quality healthcare."
Through the USDA Rural Development Community Facilities Direct Loan and Grant Program, Lane received a $61.3 million direct loan and a $4,950,000 guarantee loan for renovations and construction of a four-story tower. A portion of the funds will be used to consolidate existing debt.
"We are pleased to report that USDA funding is truly making a difference modernizing our rural hospitals throughout the state," USDA Louisiana State Director for Rural Development Roy Holleman said. "Under the leadership of President Trump and Agriculture Secretary Perdue, USDA is committed to being a strong partner in deploying this critical infrastructure in Louisiana and across all of America's rural communities, because we know when rural America thrives, all of America thrives."
The project is expected to benefit more than 200,000 people in Zachary and the surrounding regions of Baker, Central, Slaughter, Jackson, Clinton, St. Francisville, New Roads, North Baton Rouge and Southern Mississippi.
USDA Rural Development provides loans and grants to help expand economic opportunities and create jobs in rural areas. This assistance supports infrastructure improvements; business development; housing; community facilities such as schools, public safety and health care; and high-speed internet access in rural areas. For more information, visit www.rd.usda.gov.
PHOTO: PICTURED L-R:
Staci Sullivan, Gaynell Young, Michael Duvall, Larry Meese, Roy Holleman, Tony Matlock, Morgan Washington, David Beck.
Expansion Renderings Expansion News Coverage