Dr. Nayan Agarwal, interventional cardiologist at Cardiovascular Institute of the South, is the first in Louisiana to use the new, longer Stellarex drug-coated angioplasty balloon to treat peripheral artery disease (PAD) in the legs. The first procedure took place in the catheterization lab at Lane Regional Medical Center.
The new balloon now comes in lengths of 150mm and 200mm. These longer balloons allow physicians to treat a larger portion of the diseased artery with the use of only one balloon.
"Access to these new, longer balloons can be crucial for patients with longer lesions in the upper leg," said Dr. Agarwal. "This broadens our treatment options for patients with peripheral artery disease, and this new technology can be found right here in Zachary."
Peripheral Artery Disease (PAD) is caused by plaque build-up or blockages in the legs. Just like clogged arteries in the heart, blocked arteries in the legs keep the organs from receiving oxygen-rich blood, which raises the risk of cardiovascular events, such as heart attacks and strokes. PAD is a common and treatable disease, but it is often unrecognized and undiagnosed. Ultimately, PAD can reduce mobility and lead to amputation if left untreated.
Symptoms of PAD in the legs include: pain or cramping after activity, numbness, coldness, sores or ulcers that won't heal, discoloration, hair loss, shiny skin or a weak pulse. The risk for developing PAD increases with age and is highest for those over 50 years old. Smoking increases the chance of developing PAD three to five times. Other common risk factors include diabetes, high blood pressure, abnormal cholesterol levels, and a family history of vascular disease, heart attack or stroke.
To make an appointment with a CIS cardiologist in Zachary, call 225-654-1559.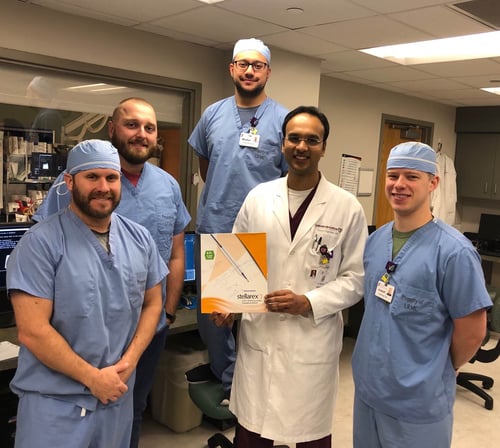 Members of the Cath Lab team at Lane Regional Medical Center are pictured L-R:
Bennett Templet RT, Tyler Perritt RN, Walter Kipp RT, Nayan Agarwal MD, and Joe Pierce RT