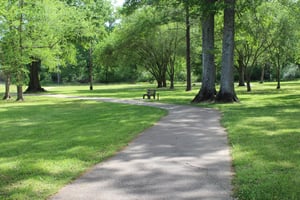 We all know the health benefits of exercise. From a smaller waistline to a stronger heart, there is very little about the body that cannot be improved through regular physical activity. Unfortunately, getting the exercise we need isn't always a simple task. Day-to-day commitments can make finding the time to go for a run or hit the gym nearly impossible, and many dread the thought of a heavy workout. The good news is that exercise doesn't necessarily have to mean lifting weights or taking a spin class. What many may not realize is that improving health through exercise can be as simple as walking.
How Does Walking Benefit Health?
First, it is important to understand that if you are looking to quickly make drastic improvements to your physique, walking alone will likely not get you to your goals. However, if your goal is to help your body function better and reduce your risk of some major health complications, walking is a great place to start. Most doctors recommend a minimum of 30 minutes of physical activity each day, and even if your endurance is not quite up to 30 full minutes, you can reap the same rewards by breaking up your walks into shorter intervals throughout the day. By doing so, you will be giving your body some major health advantages, including:
Helping maintain a healthy weight
Improving or preventing conditions such as Type 2 diabetes, high blood pressure, and heart disease
Building muscle and bone strength
Boosting Immunity
Improving balance and coordination
Walking Trail in Zachary
As simple as walking is, determining where to do it isn't always so easy. Some live in neighborhoods that aren't conducive to walking, don't have access to treadmills, or are simply looking for a change of scenery. In Zachary, Lane Regional Medical Center has a solution to these quandaries with an accessible fitness trail on our campus that boasts the following benefits:
Free and open to the public
½ mile in length
8 foot wide and fully asphalt paved
Mostly shaded
Benches situated for rest along the way
Strollers allowed
Located behind the hospital and taking a path through beautiful trees and greenery, this trail allows for a lovely walk that is just secluded enough and available at any time you want. So, head over to take advantage of this hidden gem, and get the bonus of some major health rewards while you're at it!