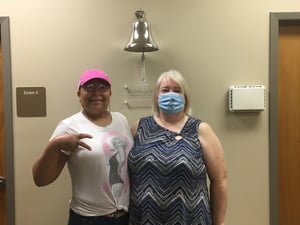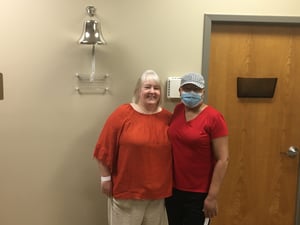 Anything is possible when you have the right people there to support you. That sentiment is especially true for Tina Strickland and Wanda Hayes, two friends who went through cancer treatment at the same time.
Tina and Wanda met almost 15 years ago when they both worked for a local Hospice organization. Even after going their separate ways and changing jobs, they kept up with each other over the years. When they caught up again in March, it led to the two friends sharing their recent diagnoses and realizing they were both about to receive treatment at Lane Cancer Center in Zachary.
Wanda was diagnosed with her second bout of breast cancer in February, and started chemotherapy treatment in March, going to the cancer center every Wednesday. Tina was diagnosed with stage three colon cancer after having a routine colonoscopy in February. After having an initial surgery, she also started her chemo treatments in March, going every other Wednesday and Friday. On the Wednesdays that their treatments coincided, the pair reconnected yet again.
"I would save her a seat in the chemo room," Wanda said. "And on the hard days, I would tell her, 'Be strong Tina.' She would bring me a Gatorade and I would bring her a ginger ale to get through the tough treatments."
While the two friends' cancer journeys were very different, their support for each other helped them to stay strong and finish treatment.
"God put us back together for some reason," said Tina. "That's a hard journey. I didn't realize, even though I've worked in the medical field for a long time, I never realized how hard that treatment is until I experienced it myself. And if you don't have somebody, it's even harder."
Both Tina and Wanda finished treatment in August, just a week apart from each other. Wanda promised Tina she would be there for her bell ringing ceremony, and Tina did the same for Wanda. While Wanda's children couldn't make it because of their jobs, they tuned in to her bell ringing via FaceTime. The two women even bought each other gift bags from the cancer center gift shop to commemorate their milestone of finishing treatment.
They were most thankful for each other, the doctors, the Cancer Center staff, and having a cancer treatment center so close to home.
"We both appreciate having Lane Cancer Center and knowing it is affiliated with Mary Bird Perkins – Our Lady of the Lake Cancer Center," said Wanda. "It was so convenient. We were right at home. Especially if we were feeling sick, it was right here in Zachary, just minutes from our homes, which is so special."
As for their cancer treatments, they both expressed gratitude to the doctors at Lane Cancer Center.
"Those same doctors who helped me through the first time helped me through the second time," Wanda said. "Dr. Cataldo was so pleasant and caring the first time, so when they asked me who I wanted this time, I said Dr. Cataldo."
The two women were just as thankful for the Lane Cancer Center staff and employees.
"Throughout, they were always loving and caring for us," Tina explained. "They knew your name the first time you came in, even before they'd met you."
"It just made you feel like, 'okay, this is good,' because they took care of us," Wanda added. "From the front desk, to the treatment area, everyone was so caring."
The two are planning to stay in touch and support each other through thick and thin. Wanda will soon be going in to discuss post-treatment surgery with her doctors, and Tina will be right there to support her.