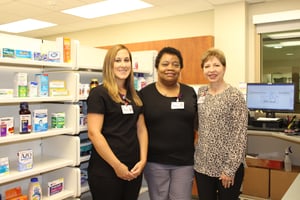 When it comes to living your healthiest life, there are a few steps that are just necessary to take. You'll have to eat a balanced diet, make time for physical activity each week, and take all your medications as prescribed. Of course, this also means that you will need to stay on top of picking up your medications and refilling as necessary, a fact that can often prove inconvenient if not for the right pharmacy.
Benefits of Using Lane Pharmacy
Lane pharmacy is a full-service, retail pharmacy located within Lane Regional Medical Center. There are many benefits to using our pharmacy, not the least of which is location:
Fast, professional service
Easy refill options day or night by phone
Most insurance plans accepted
Knowledgeable pharmacists are on-site to answer any questions
Lane Pharmacy for Hospital Patients
Of course, hospital patients can gain even more benefit from using Lane Pharmacy. Before ever even leaving the hospital, they can quickly stop by our location to fill any medications that were prescribed at discharge. Additionally, for those who are still patients of Lane Regional Medical Center, bedside delivery is another convenient feature.
Keep Your Physician in the Loop
By filling all of your prescriptions in one place, particularly one associated with your physician's practice, you can help them easily access any and all medications you may be taking or have taken in the past. Of course, this doesn't mean that you'll never have to fill in the blanks. You'll still need to be prepared to share any additional medications you may be taking, including over-the-counter, but it certainly adds to the convenience.
If you have questions about the offerings of Lane Pharmacy and would like to learn more about our services, click the button below.