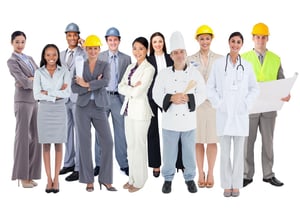 Every business, regardless of industry, relies on skilled and competent employees in order to keep the organization afloat. The health and welfare of these team members is intrinsically tied to the success of the business, with each individual and their specific job function playing a vital role in maintaining a thriving and balanced ecosystem. However, there are times when illness or injury may impact an employee's ability to work, throwing a proverbial wrench into the machine. Foreseeing the potential for such circumstances and taking appropriate action to protect employees is a component vital to every successful organization.
Worker Injuries from Overexertion
Injuries that result from overexertion on the job are easily overlooked. They aren't catastrophic in nature, and they often occur over a long period of time due to repetitive motion and stress within specific areas of the body. Yet, these types of injuries are by far the most common and the most expensive, costing billions annually. In order to keep them to a minimum, employers can help prevent overexertion by ensuring the following:
Workers understand and use proper technique when lifting or moving heavy objects.
Workers use the appropriate workplace equipment when needed.
Workers take sufficient breaks from repetitive tasks.
Worker Injuries from Slips, Trips & Falls
Slips, trips, and falls are the most common source of workplace injury and the most frequent cause of workers compensation claims. Such accidents may produce injuries such as broken bones, strains, fractures, lacerations, and more. Generally speaking, however, employers can keep such incidents to a minimum by ensuring that their employees have the following:
A well-kept work area that is kept free of spills and debris
Proper footwear with good traction
A solid walking surface featuring adequate grip and no loose flooring
Worker Injuries from Motor Vehicle Accidents
Thousands of work-related motor vehicle accidents occur each year, and they are the leading cause of employee fatalities. These can involve anyone from truck drivers to salespeople who are operating either their own or a company-owned vehicle. While you may not be able to be physically present to monitor your worker's driving habits or the road conditions, there are still some smart steps that businesses can take to minimize such accidents:
Implement a motor vehicle safety program with well-defined training and policies.
Evaluate and select drivers based on past performance and data.
Ensure that all vehicles used for company purposes are well-maintained.
Worker Injuries from Machinery Accidents
Jobs that require close proximity to heavy machinery pose the unique threat of injuries that occur when a worker is struck by or caught in these pieces of equipment. Construction and plant workers are just two examples of the many U.S. employees who are susceptible to such events. Keeping them protected should involve the following:
Proper safeguards surrounding the portion of machinery or process in which injury may occur
Worker training regarding proper equipment use and safety procedures
Provision of protective clothing and equipment that may aid in injury prevention
Providing a safe work environment and the appropriate tools, equipment, and training is the job of every employer. But, it isn't something that can be accomplished alone. Programs such as Lane's Workforce Wellness exist for the sole purpose of helping identify and reduce the potential for workplace injury and illness. From on-site safety training to employee health screenings, there are a number of ways that such programs can help keep your organization running smoothly and your employees healthy and happy. Learn more about Workforce Wellness or request additional information by clicking below.