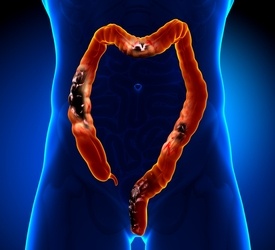 March is National Colorectal Cancer Awareness Month. According to the American Cancer Society, colorectal cancer is the third most commonly diagnosed cancer and the third leading cause of cancer death in both men and women in the United States.
The disease develops from precancerous polyps in the colon or rectum, and occurs as a result of errors in the way cells grow and repair the lining of the colon. The risk of a man having colorectal cancer in his lifetime is about 1 in 19; for a woman, it is about 1 in 20.
"Unfortunately, there are no early warning signs for colorectal cancer. When symptoms do occur, they may include blood in the stool, abdominal pain, a change in bowel habits (constipation or diarrhea), unexplained weight loss, or extreme fatigue," says Jason Gwyn
"Getting screened for colorectal cancer routinely can significantly reduce your risk of developing the cancer," he says. "Because more than 90 percent of cases are diagnosed in those over the age of 50, it is smart to begin regular screenings when that milestone is reached. A healthy lifestyle can also go a long way toward preventing the disease."
As of 2007, U.S. annual incidence and mortality rates for colorectal cancer have both dropped substantially from 1975 rates. Beth Buckley, Clinical Operations practice leader at Quorum Health Resources (QHR) reported: "It has been estimated that half of this decline can be attributed to changes in risk factors, and half to increases in screening for colorectal cancer." In 1987, only about 35 percent of American adults in the recommended age range underwent screening; by 2008, this number had increased to 63 percent.
Tips to help prevent colorectal cancer:
Get Screened. If you are age 50 or older, make a commitment to have a colonoscopy to screen for pre-cancerous polyps in the colon. It is a painless procedure performed under sedation that could save your life.
If you have a close relative who has suffered from colorectal polyps or colorectal cancer, or if you have inflammatory bowel disease, talk to your doctor about getting screened before age 50. There are several different types of screening tests that may be combined or used alone, including:
Colonoscopy (every 10 years)
High-sensitivity fecal occult blood test (annual)
Flexible sigmoidoscopy (every five years)
Eat Healthy. Medical experts agree that one of the best ways to reduce your chances of developing colorectal cancer is to maintain a diet low in animal fats and high in fruits, vegetables and whole grains.
Get Moving. Studies show that those who are physically active are 24 percent less likely to develop colorectal cancer than those who are not. The American Cancer Society recommends exercising at least 30 minutes a day, several days per week.
Maintain a Healthy Weight. Studies show that your body type can influence your risk for developing colorectal cancer. Those with an "apple" shape and those carrying extra weight around the waist are at greatest risk.
Go Tobacco Free. Research shows a link between smoking and colorectal cancer (because inhaled or swallowed tobacco smoke transports carcinogens to the colon). Tobacco use has also been shown to increase polyp size.
Take Your Vitamin D. The American Cancer Society suggests that Vitamin D can reduce the risk of developing colorectal cancer by helping the body get rid of its own highly toxic digestive acid. Oral calcium supplements can also aid in reducing the risk of developing the cancer.
Three Myths About Colorectal Cancer
Myth #1: Colorectal cancer is a man's disease.
Truth: Colorectal cancer is just as common among women as men. Each year, about 150,000 Americans are diagnosed with colorectal cancer, and about 50,000 die from the disease.
Myth #2: African Americans are not at risk for colorectal cancer.
Truth: African-American men and women are diagnosed with and die from colorectal cancer at higher rates than men and women of any other U.S. racial or ethnic group. The reason for this is not yet understood.
Myth #3: It's better not to get tested for colorectal cancer, because it's deadly anyway.
Truth: Colorectal cancer is often highly treatable. If it is found and treated early (while it is small and before it has spread), the 5-year survival rate is about 90 percent. But because many people are not getting tested, only about 4 out of 10 are diagnosed at this early stage when treatment is most likely to be successful.
To learn more about preventing and treating colorectal cancer, visit www.cancer.org and click on Cancer Topics, then Colon and Rectal Cancer. For a physician referral or more information about Lane Endoscopy Center, please visit Lane Regional Medical Center for more information or call (225) 658-4522.
Free Colon Cancer Screening
Friday, March 10
9:00 AM to 1:00 PM
Lane Regional Medical Center, 6300 Main Street, Zachary
Pick up a free screening kit for use in the privacy of your own home.