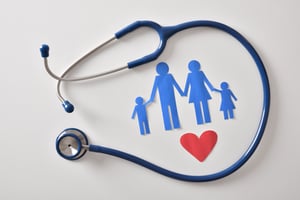 When researching local physicians or trying to find the best hospital or clinic to receive care, you've likely come across the terms "internal medicine" and "family medicine." Although both disciplines are similar, there are a few key differences.
Similarities and Differences


Internal medicine and family medicine are both primary care specialties. Physicians who fall into either of these categories are often referred to as "general practice doctors."

Family medicine treats patients of all ages – from infants to seniors.

Internal medicine treats adults only. Just as a pediatrician only treats kids, an internal medicine doctor (also referred to as an "internist") is solely focused on adults.

Internal medicine doctors can provide inpatient care in hospitals as well as outpatient care at their practices.
Typically, family medicine doctors focus on preventative, well-patient services in an outpatient setting. They will usually refer to specialists if inpatient care is required.
Both specialties require a three-year residency after medical school, but the training for each looks different. Internal medicine residents focus on hospitalized patients and receive extra training in emergency and critical care. Family medicine residents usually receive some of that same inpatient training along with instruction related to outpatient medical specialties like pediatrics, OB/GYN and others.
Although there are many differences between internal medicine and family medicine, both specialties are often offered on the same hospital campus or in the same network. This makes it easy for patients to receive the type of care that works best for their needs today as well as when those needs may change in the future.
Internal Medicine and Family Medicine at Lane


Our network of primary care providers includes both internal medicine and family medicine physicians – making it possible for you to get the best care you deserve in one convenient, comfortable location closer to home. At Lane Family Practice, you will find dedicated providers who specialize in preventive care, sick care, management of chronic diseases and conditions, health education, medication management, follow-up care after hospitalization and more.