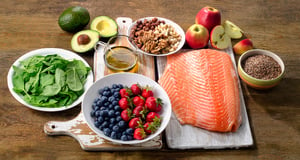 We've all heard the phrase, "an apple a day keeps the doctor away," but did you know it's true? Although it takes more than just one apple, healthy eating habits can help keep you out of the doctor's office by lowering your risk for obesity, type 2 diabetes, heart disease, certain types of cancer and more.
The Effects of Poor Nutrition
From birth to adulthood, nutrition plays a vital role in your overall health and well-being. According to the Centers for Disease Control and Prevention (CDC), 3 in 4 infants are not exclusively breastfed for six months (as is recommended), 1 in 6 pregnant women have iron levels that are too low, and 9 in 10 Americans consume too much sodium.
Overtime, poor nutrition can lead to:

Obesity

– in the United States, 20 percent of young people ages 2 to 19 as well as 42 percent of adults are considered obese. Nearly $173 billion is spent annually on healthcare related to obesity.



Type 2 diabetes

– if you are overweight or struggle with obesity, you are at an increased risk of type 2 diabetes because, over time, your body becomes less able to use the insulin you make naturally. 88 million adults in the U.S. have prediabetes, and more than 8 in 10 of them don't even know they have it.



Heart disease and stroke

– high blood pressure and high cholesterol – which can occur from having too much sodium and saturated fats in your diet – are two of the leading causes of heart disease and stroke. Current CDC guidelines recommend getting less than 2,300 mg of sodium per day, but research shows Americans consume an average of more than 3,400 mg per day.
Certain types of cancer – an unhealthy diet can increase your risk of at least 13 different types of cancer, including breast cancer in postmenopausal women, colorectal cancer and endometrial (uterine) cancer.
Nutrition Services at Lane
Eating a healthy diet low in saturated fats and high in fiber, along with getting enough physical activity and sleep, can help prevent chronic conditions like obesity, high blood pressure, high cholesterol and more. Our team of licensed and registered dietitians provide individualized nutrition plans and give our patients the tools and motivation needed to make improvements to their overall health and well-being.