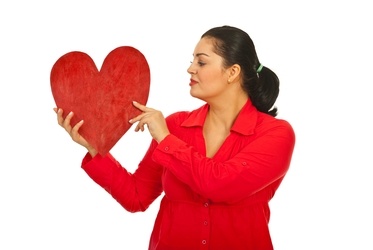 Seeing red typically refers to someone who gets so angry that they become enraged.
However, having people see red during Heart Month is not a bad idea, especially if it leads them to take steps to prevent heart disease.
The American Heart Association (AHA) has a website called Go Red for Women that lists several actions you can take to help others see red for heart health.
1. Wear Red
Cardiologist Annabelle Santos Volgman only wears red. One look in her clothes closet will tell you that. Even her treatment rooms are painted red!
While that may seem a bit extreme, Dr. Volgman uses this technique to draw attention to the fact that heart disease is the No. 1 killer of women.
During heart month, include the color red in your wardrobe in the form of clothing or accessories.
(NOTE: We are encouraging everyone to Wear Red this Friday, Feb. 13, for Zachary Wears Red Day.)
2. Make a Donation
The American Heart Association is the leading voluntary organization dedicated to fighting heart disease and finding a cure. In the past ten years, AHA has:
Helped save more than 627,000 women from heart disease (and 330 fewer women are dying each day).
Educated millions of healthcare providers to recognize and treat heart disease in women.
Increased awareness of heart disease as the No. 1 killer by 28 percent (from 22 percent to well over 50 percent).
With those numbers in mind, can you think of a better organization in which to donate both money and time?
AHA offers several ways to go about it including participation in fundraising activities such as Heart Walk, giving in honor of a loved one, or becoming a member of the "Circle of Red."
3. Share Your Story
If you have been a victim of heart disease and overcome its effects through treatment or surgery, share your story with others. Become a source of support for someone who may be experiencing a similar circumstance.
4. Know the Signs of Heart Attack
Go Red For Women has a video called "Just a Little Heart Attack" that helps you learn how to identify a heart attack. The site also lists heart attack and stroke symptoms of which you need to be aware.
To help you learn what to do in the event you see someone experiencing a heart attack, we are offering free CPR training on Saturday, February 21, at St. Francisville First Baptist Church. Click here to register. In addition, Hollis Milton, Superintendent of West Feliciana Parish Schools, will share the story of his recent heart attack.
5. Live a Healthy Lifestyle
One of the best ways you can help others see red for heart is by modeling a healthy lifestyle. That includes eating right, getting plenty of exercise, knowing your blood pressure numbers, and managing stress.
Check out our Health Resource blog for tips on healthy eating, which includes a recipe for a savory meatless burger made with sweet potatoes.