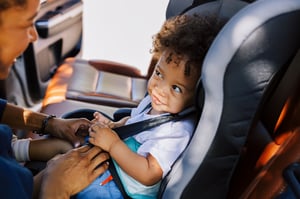 You'd do anything to keep your child safe, and one of the most important things you can do is ensure that every time they ride in a vehicle they are placed in an appropriately sized and installed car seat. Auto accidents are the leading cause of death in children, and unfortunately, many of those instances could have been prevented with proper car seat safety. In fact, statistics from 2018 show that 33 percent of auto-related fatalities in children younger than 12 did not include appropriate safety restraints. Make sure your child is as safe as you can make them in the car by following the car seat safety guidelines below.
Follow Car Seat Manufacturer Guidelines
When in doubt, check your car seat's manual! This should be your first step in determining where and how to appropriately position your child's seat. These instructions are based on tested data to ensure that when used correctly, the seat offers the highest levels of protection possible.
Use Ideal Car Seat Placement
Seat placement will depend on factors such as the age and size of the child. The safest place for most is in the middle of the back seat. Infants and toddlers should remain rear-facing for as long as possible. Once forward-facing, use manufacturer height and weight guidelines to determine when your child is ready to move into a booster seat. They should remain in a booster until they are 9 to 12 years of age or 4'9" tall.
Tighten Car Seat Straps
Most vehicles include hooks in the back seat to attach a car seat. However, it isn't simply enough to hook the seat into place. It is also necessary to tighten the straps until you are no longer able to wiggle the seat back and forth. If you are able to physically move the seat in any direction by at least one inch, the straps are not tight enough.
Check Car Seat Harness
The harness of a car seat is intended to be snug and chest level. Often, parents adjust the straps too loosely or allow the chest clip to rest below the breastbone. Both of these scenarios can reduce the seat's effectiveness. To ensure that your child's harness is snug enough, attempt to pinch the straps at the top of the shoulder. If you are able to pinch any excess fabric, they are too loose.
If you ever have any concerns about your child, their health, or their safety, a qualified pediatrician is a great place to turn. Click below to learn more about the pediatricians at Lane and get started by requesting an appointment.