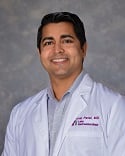 Dr. Krunal Patel at Lane Gastroenterology, 6550 Main Street in Zachary, is now using capsule endoscopy technology to help diagnose small intestine disorders.
Capsule Endoscopy is a revolutionary new technique that uses a pill-sized wireless camera, or capsule, to view the small intestine. When swallowed, this capsule makes its way throughout the entire digestive tract, capturing important images along the way on a data recorder worn around the waist for eight hours.
Given the ease and thoroughness of a capsule endoscopy, the procedure is used to determine the cause of recurrent or persistent symptoms when other diagnostic procedures such as upper endoscopy or colonoscopy fail to provide a definitive reason for symptoms, including:
unexplained bleeding
anemia due to low iron stores
diarrhea
polyps
celiac disease
certain types of cancer
abnormal x-ray of the small intestine
suspicion of other small intestine diseases
To learn more about capsule endoscopy or to make an appointment with Dr. Krunal Patel at Lane Gastroenterology, please call 658-6780 or visit LaneRMC.org/gastro.