Larry Meese, Chief Executive Officer at Lane Regional Medical Center, recently received the Patriot Award from the Employer Support of the Guard and Reserve (ESGR).
Paul Murphy, Chief Information Officer at Lane, nominated Meese for the award, which reflects the support provided by a supervisor to employees serving in the National Guard or Reserve. Murphy serves as a Captain with the 236th Combat Communications Squadron, a Louisiana Air National Guard combat communications unit. He was deployed for seven months in 2017 with the 768th Expeditionary Air Base Squadron in Niamey, Niger.
"We owe a tremendous amount of gratitude to our men and women in uniform," said Meese. "Supporting our employees who serve in the National Guard and Reserve is an honor, and we are humbled by this recognition."
The ESGR is a Department of Defense program that promotes cooperation and understanding between Reserve Component Service members and their civilian employers and assists in the resolution of conflicts arising from an employee's military commitment.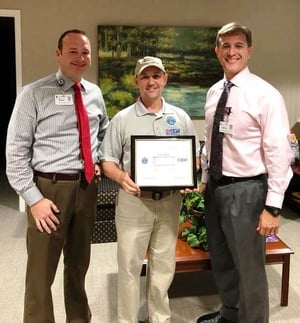 (Left to Right): Paul Murphy, ESGR volunteer Major Shane Watkins of the 159th Fighter Wing, and Larry Meese