Central Louisiana Area Health Education Center (CLAHEC) collaborated with Lane Regional Medical Center to bring the "AHEC of a Summer" volunteer program to high school students in the area. The program is an excellent tool by which students can explore different health care professions and make decisions about their future based on experience and observation. Twelve students volunteered their time for fifteen days at Lane Regional Medical Center.
"AHEC of a Summer" participants are high school students who have a career interest in the medical profession. The program provides the students with the opportunity to participate in health related volunteer work and the freedom to explore career interests in the various fields that comprise the world of health careers. The students rotate through various departments at the hospital to gain hands-on experiences so they can determine for themselves whether or not a health career is a good choice for their future. They are able to obtain knowledge and experience from healthcare professional mentors, field trips, workshops, and guest lecturers. The program supervisor at Lane Regional Medical Center was Allyson Bennett, RN, and the program educator was Kelly Haynes, of Baker High School. The students attend Baker High, Central Private, St. Joseph's Academy, Slaughter Community Charter School and Zachary High.
The 2018 program participants were Brianna Blunt, Bryanna Brown, Delaisha Davis, Ashleigh Elkins, Malana Griffin, Krystal Harrigill, Shannelle Holliday, Anna Leyrer, Kelsie Littles, Clara Lofstrom, Sean Michot and Daniel Prado. Students were chosen on the basis of grades, a written essay, and an interview. "AHEC of a Summer" is an accredited high school course for one-half unit elective credit.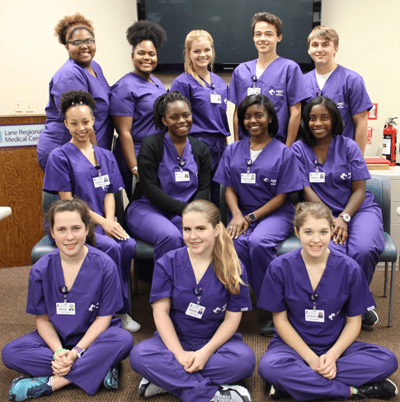 AHEC of a Summer 2018 participants at Lane Regional Medical Center.
left to right: (bottom row) Anna Leyrer, Krystal Harrigill and Ashleigh Elkins
(middle row) Delaisha Davis, Shannelle Holliday, Bryanna Brown, and Kelsie Littles
(top row) Brianna Blunt, Malana Griffin, Clara Lofstrom, Daniel Prado and Sean Michot