Lane Regional Medical Center was announced as a 2018 recipient of the Funds for Safety Grant sponsored and funded by the LHA Trust Funds. Lane Regional has previously won this safety grant in 2013, 2014, and 2016.
The 2018 safety grant will be used to facilitate a hand hygiene campaign for staff and update environmental service cleaning carts with the goal of reducing healthcare associated infections in patients. Lane Regional will complete this improvement over the course of the next year.
Lane Regional's previous Funds for Safety grant projects include: (2013) development of a stimulation safety lab with emphasis on reducing falls, (2014) implementation of a wireless call and messaging system to improve response time to patient needs, and (2016) installation of a fall prevention program through implementation of best practices.
The Funds for Safety Grant Program was created in 2012 by the LHA Trust Funds to help fund its members' initiatives to improve patient or visitor safety. Since its creation, the grant program has awarded more than $1.7 million to fund approximately 100 unique projects for facilities in Louisiana.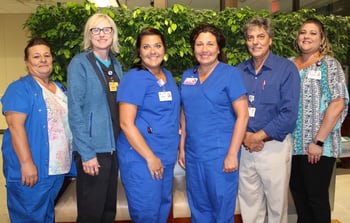 Safety Grant Team members: Billie Pace, Dana Bellefontaine, Kim Watson, Courtney Day, Michael Bua and Michelle Shipe