Lane Pharmacy is now open and filling prescriptions for the general public and for patients being discharged from the hospital.
Bedside delivery for inpatients is also available. When providing bedside service, we begin processing prescriptions as soon as we receive them from the physician and will be delivered to the bedside before the patient leaves the hospital. Patients also have the option of picking up their prescriptions directly at the pharmacy.
Open Monday – Friday, from 8 a.m. – 6 p.m., Lane Pharmacy is conveniently located inside Lane Regional Medical Center across from the cafeteria. Most insurance plans are accepted.
For more information, please call 225-658-6770, or have your provider fax in the prescription order to 225-658-4291.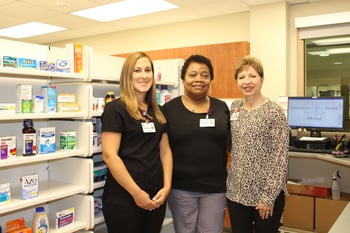 Pharmacy manager Jacklyn Olinde, pharmacy tech Diaine Pierre, and pharmacy director Jennie Stelly