Lane Regional Medical Center is pleased to announce that Samantha Bland-Naquin, MD, OB/GYN, has recently joined physicians Keith Elbourne, Joshua Best and Nikki Gautreaux at Lane OB/GYN (formerly Bayou Regional Women's Clinic) in Zachary.
Originally from Houma, Dr. Bland received her undergraduate degree and graduated Magna Cum Laude from LSU. She earned her medical degree at Louisiana State University Health Sciences Center, School of Medicine in New Orleans and completed her residency training in obstetrics and gynecology at Louisiana State University Health Sciences Center in Baton Rouge. She is board eligible in obstetrics and gynecology.
She is currently a member of the American College of Obstetricians and Gynecologists, American Medical Association, and Louisiana State Medical Society.
Dr. Bland specializes in women's overall health, from childbirth through menopause. "I am excited to be part of this close-knit community. Having the same expertise and technology as the larger hospitals but not having to drive into Baton Rouge is a great convenience for patients," she says. "There is just no better job than helping a woman to become a mother and keeping women of all ages healthy."
Dr. Bland and her husband, Al, live in Zachary with their 10-month-old-daughter Audrey. She has been a team participant of the American Cancer Society's Relay for Life since 2004 and enjoys spending as much quality time as possible with family and friends.
To schedule an appointment with Dr. Samantha Bland at Lane OB/GYN, located at 6550 Main Street, Suite 2000, in Zachary, please call 225-658-1303.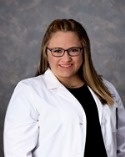 Dr. Samantha Bland