The 8th Annual Lane Foundation Code Red Chili Cook-off & Salsa Competition was held on Saturday, April 29, in downtown Zachary. In addition to tasting some world-class chili and salsa, patrons also enjoyed other activities such as a free kid's zone, arts & crafts market, face painting, games, and live music by Blue Crab Redemption, Ben Ragsdale Band, and Whiskey Row Band.
First Place Winners:
Judges Red Chili: A Taste of Home, Head Cook Jeff Davis
Judges Salsa: Sassy Hen 'N More, Head Cook Sharon Gouedy
People's Choice Chili: Blue Chili's, Head Cook Mike White
People's Choice Salsa: Team Ring Sting, Head Cook Jana Ragsdale
Best Tent/Team Spirit: GP Loan Stars, Head Cook Chandler Young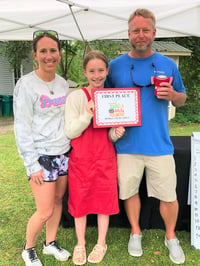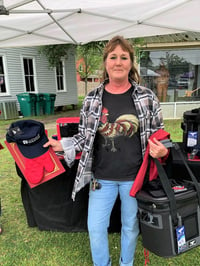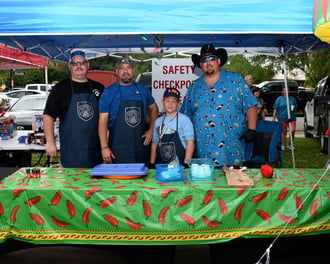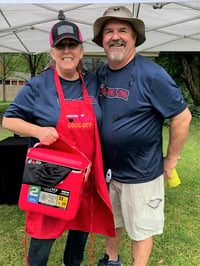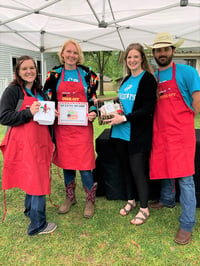 "We are so appreciative of all of the cooking teams who entered the competition and made it the most successful cook-off we've had yet," said Lane Foundation Director Theresa Payment. "This year we had 19 teams, with six of them being first time contenders. We had more than 400 patrons sample the chili and salsa entries, and many teams gave out over five gallons of chili and salsa. We want to thank all of our teams, judges, volunteers, sponsors, board members, and others who contributed to the event which raised $25,000 in support of the hospital's expansion project."
Sponsors:
Red Hot Sponsors: Breazeale, Sachse & Wilson; GP Credit Union; Gridliance; and Milton J. Womack.
Bring on the Heat Sponsors: Bank of Zachary; Charlet Funeral Home; City of Zachary; Landmark Bank; Savista; and Superior Ford of Zachary.
Spice It Up Sponsors: AJ Gallagher Insurance; Hood Dental Care; John Hendry Insurance; Pampered Pooch; Subway Zachary; and Zachary Spine & Sports Rehab.
Official Media Sponsors: Scott Innes in the Morning 103.3; and Zachary Post.
In Kind Sponsors: Cypress Title of Zachary; Tabasco; The Lodge at Lane; and Zachary Feed & Seed.
PHOTOS:
1st Place Judges Red Chili: A Taste of Home - Cameron Lambert, Kendall Davis, and Jeff Davis
1st Place Judges Salsa: Sassy Hen 'N More - Sharon Gouedy
1st Place People's Choice Chili: Blue Chili's - Alex Bonds, Mike White, Walker Stephens, and Ty Stephens
1st Place People's Choice Salsa: Team Ring Sting - Jana Ragsdale and George Ragsdale
1st Place Best Tent/Team Spirit: GP Loan Stars - Santana Vicellio, Rachel Hann, Rebecca Young, and Chandler Young