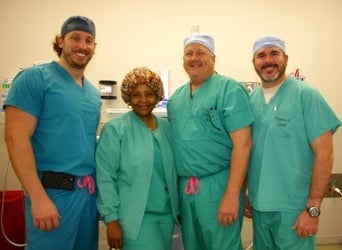 In recognition of their profession's long history and enduring record of patient safety, Certified Registered Nurse Anesthetists (CRNAs) at Lane Regional Medical Center are celebrating the 18th annual National CRNA Week, January 22-28, 2017.
Established by the American Association of Nurse Anesthetists (AANA), National CRNA Week was created to encourage CRNAs to take the opportunity to educate the public about anesthesia safety, questions to ask prior to undergoing surgery, and the benefits of receiving anesthesia care from nurse anesthetists.
"One of the many rewards of being a nurse anesthetist is providing patients with the comfort of knowing that we will be by their side monitoring their vital signs and adjusting their anesthetics to ensure a pain free and safe anesthesia experience," said Gerry Pedersen, CRNA, Anesthesia Director. "National CRNA Week serves as an opportunity to inform the public exactly what CRNAs do and who we are."
Nurse anesthetists are advanced practice registered nurses who administer more than 43 million anesthetics in the United States each year, practicing in every setting where anesthesia is available.