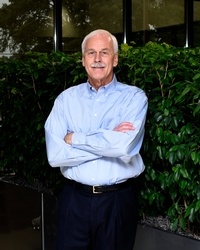 Randy Olson, chief executive officer of Lane Regional Medical Center for almost 14 years, has announced he will retire in early March. A reception in his honor will be held on Thursday, February 9th, from 4-6 p.m., in the 3rd floor conference room of Lane Medical Plaza & Outpatient Diagnostic Center, located next door to the hospital at 6550 Main Street in Zachary. The public is invited to attend.
Larry Meese from Jackson Hospital in Marianna, Florida has been named Olson's successor, effective February 21st.
Olson came to Lane as interim CEO in May 2003. Six months later he officially became Lane's seventh CEO and has helped turn it into an award-winning hospital known for consistently delivering high quality care.
"It has been an absolute honor for me to work at the hospital and support all the people that make Lane Regional Medical Center such a successful family," says Olson. "Practically everyone I have worked with – from the board to the medical staff to the employees – are people of integrity with a strong sense of camaraderie. They are why the hospital has seen such dramatic improvements in growth and clinical outcomes, because we all want to do what is best for our patients, friends and neighbors."
During his tenure at Lane, Olson has been responsible for charting a course of aggressive growth and expansion for the organization and investing in the communities it serves by:
Adding new service lines – Cardiology, Urgent Care, Behavioral Health, Infusion, Addiction Recovery, Orthopedics, Pain Management, Acupuncture and Hospital Medicine
Expanding services – Obstetrics & Gynecology/Labor & Delivery, General Surgery, Diabetes Education Management, Family Medicine, Endoscopy, Rehabilitation and Home Health
Building – the Lane Cardiovascular Center with two new heart catheterization labs, the Lane Medical Plaza & Outpatient Diagnostic Center (the first 3-story building in Zachary), and most recently a Helipad
Opening –

FASTLane After Hours Walk-in Clinic, the Lane Outpatient Diagnostic Center, Lane Endoscopy & Infusion Center, the Intermediate Care Unit and Lane Wound Center & Hyperbarics
Expanding technology – with Electronic Medical Records, the Pictorial Archiving and Communication system for Imaging, transradial heart catherizations through the wrist, radiofrequency for pain management, wireless robotics for stroke and critical care patients, bedside registration in the ER, and state-of-the-art equipment such as MRI, Digital Mammography, and an 80-slice CT
Partnering with - Baton Rouge General to open the Radiation Oncology Center, AMG to open its long-term acute care specialty hospital, Regional Veterans Park Association to build the Wall of Veterans on Lane's campus, and Wellness Works to offer occupational medicine and workman's compensation services for business and industry.
Today, the 139-bed hospital employs more than 850 team members and holds top accreditations from:
The Joint Commission as at Top Performer on Key Quality Measures
Society of Chest Pain Centers as a Cycle IV Chest Pain Center
American Nurses Credentialing Center as the first Pathway to Excellence hospital in the state
Blue Cross and Blue Shield of Louisiana as a Blue Distinction Center for Maternity Care, and
The Louisiana Nurses Foundation/Louisiana State Nurses Association as Acute Care Hospital of the Year for 2013 and 2016
Under Olson's leadership, the hospital also garnered numerous awards and recognitions, including the:
NOVA award for improving community health from the American Hospital Association
Champions for Quality Award from the Louisiana Hospital Association
Excellence in Leadership award for most improved performance from Quorum Health Resources
Top Home Health Agency award from Homecare Elite
Platinum Level Fit-Friendly Company award from the American Heart Association
GHXellence Award in Contract Management
Louisiana Nursing Home Capstone Quality Award from eQHealth Solutions, and
Large Business of the Year Award in 2013 from the Zachary Chamber of Commerce
A Minnesota native, Olson has more than 39 years of experience in the healthcare field. During his career he has served as CEO at several small and large hospitals in Tennessee, Virginia, South Carolina, Pennsylvania and Minnesota. He is a Fellow of the American College of Healthcare Executives and is currently a board member of the Louisiana Hospital Association. Olson also served as past president of the Zachary Rotary Club and Zachary Chamber of Commerce where he was named Business Person of the Year in 2009.
For more information about Lane Regional Medical Center, visit: LaneRMC.org