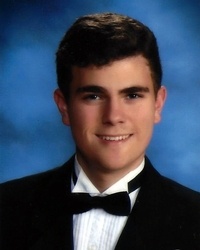 Austin Barnes is this year's recipient of the Lane Regional Medical Center Auxiliary Scholarship. A 2017 graduate of Denham Springs High School, he is the son of Sam and Addie Barnes of Denham Springs.
At DSHS, Barnes earned a 4.1 GPA in academically advanced course work, including various gifted, advanced placement and honors level courses. He was a member of the National Honor Society, JADD (Jackets Against Destructive Decisions), State Director of the National Society of High School Scholars, delegate at the Congress of Future Medical Physicians, and participated in the National Youth Leadership Forum at UC-Berkeley. Barnes was also a 2-year Varsity letterman in tennis, co-captain of the DSHS tennis team, and a member of Fellowship of Christian Athletes.
Barnes is president and founder of CineCare, a non-profit organization that collects movies and distributes them to nursing homes, hospitals and children's groups. He is involved in the mission team at First Baptist Church and sponsors a team in the Livingston Parish Special Olympics.
Barnes plans to attend either Louisiana State University or Tulane University and major in biochemistry. His dream is to become an epidemiologist and work at the Center for Disease Control and Prevention (CDC) in Atlanta.
Each year, the Lane Regional Medical Center Auxiliary awards a $2800 scholarship to a high school graduating senior who is interested in entering the healthcare field. To qualify the applicant must be a resident of Lane's service area, Hospital Service District #1, and must have maintained at least an A-B average in high school.