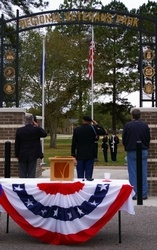 The Bank of Zachary is sponsoring its annual Veterans Day flag-raising ceremony at the Regional Veterans Park on the campus of Lane Regional Medical Center, 6300 Main Street in Zachary, on Friday, November 10th at 7:30 a.m.
This will be the ninth year of the annual Flag Raising which began in front of the Bank of Zachary's main office on Main Street but moved to the newly completed Regional Veterans Park last year. Bank President Mark Marionneaux stated, "Every year we look forward to sponsoring this wonderful community event to honor the service and sacrifice of our local veterans."
Bank of Zachary CEO Pres Kennedy will serve as Master of Ceremonies and Colonel Dan Godbee, Battalion Doctor of the Florida Army National Guard, will offer remarks during the program. Cadets from the Army Junior ROTC at Zachary High, under the direction of Major Leslie Martin, will provide the flag detail. Patriotic music will be provided by the school's band and choir under band director Jason Venable and choir director Anna Johnson. Refreshments will be served following the ceremony.
For information on the Regional Veterans Park Association and how to purchase a brick for the Wall of Veterans, please contact Will Steen at 225-938-1686 or info@RegionalVeteransPark.org.