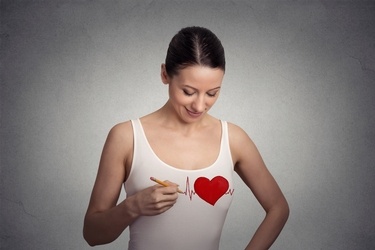 February seems the natural fit for Heart Health Month. It is the home of Valentine's Day after all. There are hearts everywhere – on cards, balloons, cakes, and stuffed animals. Hearts are never more top of mind than they are in early February. But the cute pink and red ones that adorn Valentine's gifts and decorations are far less important than the one beating inside your own chest. And yet, we don't often seem to give that one the attention that it deserves.
This year, make your heart your true Valentine, and show it some love. Here are some steps you can take to protect your heart health in February and all year long:
Know Your Heart Health Risk
Understanding your risk factors for heart disease is the first step in prevention. The more you know about your own level of risk, the more precise you can be in the proactive steps you decide to take. The following are factors that put you in a higher than average risk category:
A family history of heart disease
Age – A man's risk of developing heart disease increases after the age of 45 and a woman's after 55.
Poor cholesterol levels
High blood pressure
Diabetes
Obesity
While these factors are certainly a big piece of the heart health puzzle, there are others that should be considered as well. See a complete list of heart disease risk factors here.
Move to Keep Your Heart Strong
We know that exercise is good for the heart. Many of the risk factors noted above can be improved through regular exercise, including weight, cholesterol, and blood pressure. Research suggests 30 minutes per day, at least 5 days per week of moderate physical activity. However, it isn't just about exercise. We also now know that remaining sedentary for extended periods of time can counteract the positive effects of exercise. If you spend ample amounts of time sitting during a commute or at a desk, making it a point to get up and move about regularly is just as crucial as your workout.
Eat a Heart Healthy Diet
In this case, diet does not mean a fad that eliminates or restricts the foods you eat in order to lose weight. Instead, a heart healthy diet is about healthy moderation and a lifestyle change that you can stick with for the long haul. Here are a few tips to make sure your diet is as heart friendly as possible:
Don't eat more calories than you can burn. This will lead to weight gain and associated health problems.
Eat a variety of foods from each food group, but

focus on fresh fruits and vegetables.
Limit foods that are high in calories and nutrient poor.
Limit saturated fats,

trans

fats, and sodium.
Stop Smoking for Heart Health
This one is a biggie. Smoking is linked to an overwhelming number of health complications such as cancer, stroke, respiratory diseases, and of course, cardiovascular disease. Unfortunately, Louisiana has a poor track record when it comes to smoking with a quarter of all adults lighting up as of 2011. Quitting smoking may not be easy, but it is by far one of the biggest steps you can take to improve your overall health and reduce the risk of disease. While a smoker's risk of coronary artery disease is 70 percent higher than that of a nonsmoker, within one year of quitting, that risk is reduced by half.
This February, give your Valentine a thoughtful gift, and then give one to yourself by taking the steps needed to reduce your risk of heart disease. Need help? That's what we're here for.
Cardiovascular Institute of the South at Lane
6500 Main St.
Suite 1000
Zachary, LA 70791
(225) 654-1559