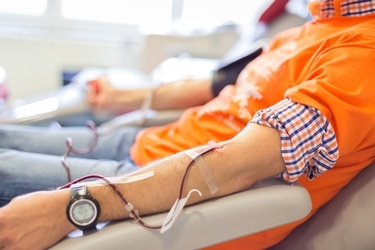 Unfortunately, we've almost all been there. You or a loved one is ill or injured. Surgery or sudden blood loss requires that the blood supply be replenished through that supplied by donors. Hopefully, in the end, all turned out well, but without an immediate and ready blood supply, that wouldn't necessarily be the case.
January has been named National Blood Donor Month, a time when awareness is brought to the life-saving act that is blood donation. In honor of this time, Lane Regional Medical Center, in conjunction with United Blood Services, will be hosting a blood drive on January 27 from 7:00 AM – 2:30 PM on the Lane hospital campus. Interested? Register onlineor simply stop by during that time. Not sure if you are ready to be a blood donor? Read on for answers to some commonly asked questions and concerns that may ease your hesitation.
Does blood donation hurt?
We understand that fear of needles is very real and quite common. Some people are concerned that the will feel pain or long-term discomfort while giving blood. The only thing you should feel is a slight pinch when the needle is inserted. This should go away immediately, and the remainder of the process is completely pain-free.
How long does blood donation take?
The actual time spent donating blood takes an average of 8-10 minutes. However, the entire process from start to finish will be longer. In order to ensure that both you and potential recipients of your blood are safe, a brief medical history and small physical will be taken. You will also need time to register and a few minutes after donation to give your body an opportunity to adjust.
Who can donate blood?
In most states, blood donors must be at least 17-years-old. However, in Louisiana, 16-year-olds may donate with parental consent. Donors must weigh at least 110 pounds and be in good health. If you have a chronic condition such as diabetes, the condition must be currently treated and under control. Pregnant women may not donate. Other factors and conditions may impact the ability to give blood. To learn more, click here.
What happens to the blood I donate?
Once blood has been collected, it is sent to a laboratory for testing and typing to ensure that it is safe and will be compatible with whichever patient may receive it. It is then distributed to area hospitals for use. The shelf-life of blood is only 42 days. This is why it is so critical that blood supplies be replenished often.
Blood donation is a simple task that can save lives. However, supplies frequently run low. You can visit a blood donation site at any time, or attend a blood drive such as the one hosted by Lane, and do your part to keep area hospitals well-stocked.