The Lane Foundation's 6th Annual Golf Tournament presented by Savista and Velocity Clinic Research was recently held at Beaver Creek Golf Course in Zachary.
Twenty-six teams teed off for the annual charity golf tournament benefiting the Lane Regional Medical Center Foundation. Proceeds will help Lane Foundation reach its Expansion Campaign goal of $1 Million in support of Lane's new 4-story patient tower focused entirely on patient care.
Tournament winners include:
1st Place - Pinnacle Exterior Construction: B.J. Scott, Keven Fontenot, Tyler Lockhart, and Jake Ross
2nd Place - Team Lawson, sponsored by AJ Gallagher: Trez Simmons, Mike Lawson, Nykki Watts, and Stan Watts
3rd Place - Merit Electrical: Casey McKenzie, Kyle Wells, Dante Caldera, and Gene Stevens
The Ball Drop was sponsored by Milton J. Womack Construction, and winners include:
Closest to the hole: Ben Hernandez, Amanda Lea, and Kyle Wells; and farthest from hole: David Broussard
THANK YOU TO EVERYONE WHO HELPED MAKE OUR EVENT A SUCCESS!
An extra special shout out to our sponsors, door prize donors, volunteers, players, and the staff at Beaver Creek for a perfect day, and Charity Golf International for providing golf pro Ian Griscom for the event.
Eagle sponsors include Milton J. Womack Construction, Pinnacle Exterior Construction, and Dantin Builders; Par sponsors include Breazeale, Sachse, & Wilson, Johnson Johnson Crabtree Architects, and Transfinancial Companies; Driving Range sponsors include Cardiovascular Institute of the South, Community Hospital Corporation, Landmark Bank, Taylor Porter Law Firm, and The Lodge at Lane; and refreshment tent station sponsors include AMG Specialty Hospital, Southern Clinical Research, Superior Ford of Zachary, and The Pampered Pooch by Julie.
To donate or learn more about the Lane Regional Medical Center Foundation, please visit https://www.lanermc.org/ways-to-give/lane-rmc-foundation or call 225-658-6699.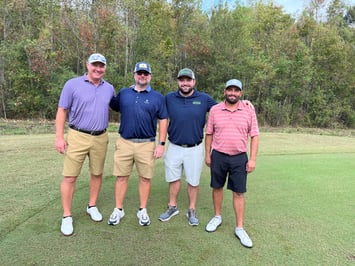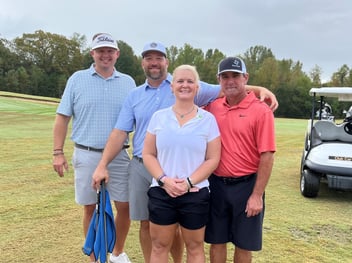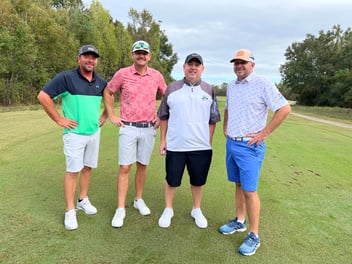 PHOTO
1st Place - Pinnacle Exterior Construction: B.J. Scott, Keven Fontenot, Tyler Lockhart, and Jake Ross
2nd Place - Team Lawson, sponsored by AJ Gallagher: Trez Simmons, Mike Lawson, Nykki Watts, and Stan Watts
3rd Place - Merit Electrical: Casey McKenzie, Kyle Wells, Dante Caldera, and Gene Stevens