Congratulations to Shaneka Johnson for being named Lane's October MVP of the Month!
Shaneka is a Unit Tech and works on 1st South. She has been a Lane team member for 27 years. She was nominated by a Department Leader from another department who observed her stepping up to meet a need when she was not even at the hospital for work.
"Shaneka came in early today for a personal appointment she had in Imaging. While she was in registration, the elderly patient ahead of her told her she didn't know what to do. She had been dropped off at the hospital for lab work and was just told she was in the wrong building….that she needed to be in the Diagnostic Center. The patient's ride had already left and her cell phone did not seem to be working. The patient had trouble even walking and there was no way she could have walked to the DC. Shaneka told the patient NO PROBLEM and not to worry…..that she would help her. Shaneka postponed her own personal appointment to help this elderly patient who looked so distraught. She went by her work station and told her co-workers what she was doing, but should be back in time for her shift. She went and found a wheelchair, returned to registration, got the patient, and wheeled her over to the Diagnostic Center…in 96 degree weather!!! She even stayed over there with the patient until her ride was reached and arrived at the DC. What a way to make a difference when you could have looked the other way!"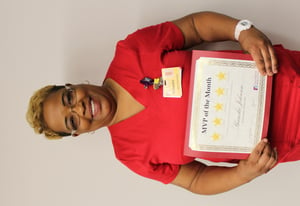 Shaneka Johnson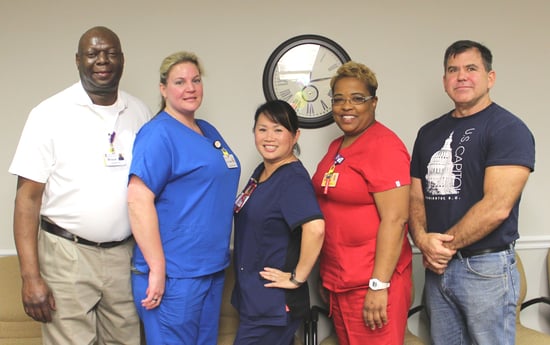 October MVP Nominees:
Bruce Williams, Jo Lynn Smith, Tole Phan-Nguyen, Shaneka Johnson and Mark Nichols.
Not pictured: Margaret Matthews, Kobi Lafleur, Katelyn Borel and Emerson Williams