The Lane Regional Medical Center Foundation recently held 'A Night at the USO annual gala at Hemingbough located in St. Francisville. The gala is one the Foundation's largest fundraising events held each year. This year's event raised $24,000 which will be used towards the Foundations current projects for the Labor, Delivery, Post-Partum, and Nursery departments.
Guests enjoyed live music from Ned Fasullo & the Fabulous Big Band Orchestra, a stunning performance by Madison Russell, and 1940's style dance exhibitions from local dance students and instructors. The evening offered raffles, silent auction, and a wine pull all to help raise funds.
"This year was amazing and we are so grateful for everyone who came out in support of the event. The gala committee pulled out all the stops to put together a great evening." said Foundation Director Theresa Payment. "Thank you to all of the generous individuals and businesses who donated services and items which helped make the evening so successful."
The Night at the USO was sponsored by Diversified Professionals Inc., The Bank of Zachary, Billy & Donna Kline, Breazeale, Sachse, & Wilson, Cardiovascular Institute of the South,
Charlet Funeral Home, Dr. Elizabeth Heirtzler Family Dentistry, Hancock Whitney Bank, NThrive Solutions, Oakwood Village, Quorum Health Resources, Don Lyn Florist and Kindred Hospital Rehabilitation Services
The LaneRMC Foundation was established in 2012 to support the technology, equipment and service needs of the hospital. For more information or to make a donation, please call 225-658-6699 or visit LaneRMCfoundation.com.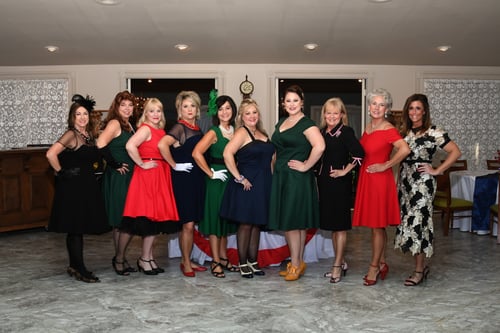 Gala Committee Members. Susan Pearson, Teresa Webb, Suzette Murphy, Christy Turner,
Donna Kline, Theresa Payment, Rachael Pollet, Charlene Smith, Dr. Elizabeth Heitzler and Mandi Foretich.