The Lane Regional Medical Center Auxiliary donated $15,000 to the Lane RMC Foundation during the hospital's appreciation luncheon on August 14th.
Auxiliary president Juanita Massey presented the check to Lane Foundation Board President Donna Kline, Lane CEO Larry Meese, and Lane Foundation Executive Director Theresa Payment. Funds will be used to purchase six portable Dinamap vital signs monitors to be used on the telemetry and med/surg units and in the emergency department.
"I am extremely proud of our work during this past year," said Massey. "It is especially rewarding to know that in addition to serving patients and families on a daily basis, the results of our fundraising efforts are being put to good use where they are needed most throughout the hospital."
Theresa Payment thanked the group for the dedication they display to the hospital every day. "Whether working in the Gift shop or passing out coffee, you serve an important role for our patients, employees, and facility," said Payment. "This donation will help ensure we continue to offer the best care possible."
To join the Lane Auxiliary and become a member of their 58-year tradition of volunteer excellence, please stop by the hospital Gift Shop or call 225-658-4309.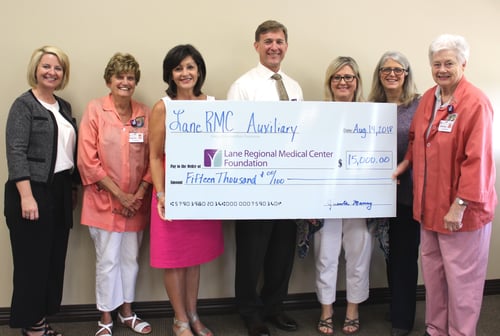 Jennifer Boyd, Lane Foundation Board Secretary; Juanita Massey, Lane Auxiliary President;
Donna Kline, Lane Foundation Board President; Larry Meese, Lane CEO;
Theresa Payment, Lane Foundation Executive Director; Staci Sullivan, Lane CNO;
and Bobbye McCutcheon, Lane Auxiliary Treasurer.