Congratulations to Jackie Loyd for being named our September MVP of the Month! Jackie is an RN and works on 2nd South. She has been with Lane for 20 years.
Jackie received 2 outstanding MVP cards this month but the one that earned her this recognition is from a patient's daughter who stated that her mom was a patient here at Lane for several days and that her experience when Jackie was on duty was outstanding. She stated that Jackie went above and beyond her expectations in every way.
"On the morning that mom was supposed to be discharged, the discharge was delayed because they were waiting on necessary medical equipment. Jackie was constantly on the phone trying to figure out when the equipment would arrive. Unfortunately the equipment did not arrive until 11:30 p.m. THAT NIGHT.... But Jackie got on the phone, made several phone calls, and even though the discharge papers were finally signed late that night, we were allowed to stay in the bed until morning. As a nurse myself, I know what it takes to do her job and Jackie is a true gift to every patient that she takes care of! Amazing Experience!!!"
Jackie's second card was from a patient's family who stated that they have been in many hospitals, but their experience here was the best thanks to Jackie!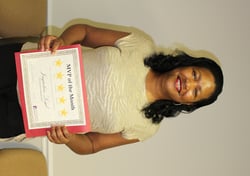 Jackie Loyd, RN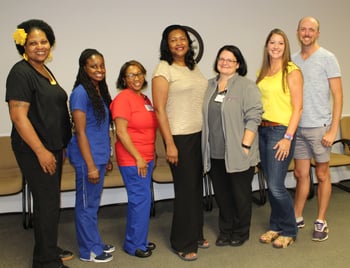 Congratulations to our September MVP nominees pictured left to right: Tanya King, Telemetry/1st South; Kasey Cador, Med-Surg/2nd South; Tawana Robertson, Lab; Jackie Loyd, Med-Surg/2nd South; Yvonne Brooks, Admissions/Registration; Evie Rogillio, Lab; and Austin Craig, ICU/IMC
Not pictured: Minerva Kilbourne, Med-Surg/2nd South