Traumatic injuries are often sudden and unexpected. They can occur due to falls, accidents, and intentional violence. The number one cause of preventable death after injury is uncontrolled bleeding.
Learning how to Stop the Bleed can help increase the chances of survival following traumatic injury.
Presented by Dr. Jamie Bohanon with Lane Surgery Group, Stop the Bleed is a national awareness campaign designed to train and equip people to save lives in emergency situations involving serious bleeding until professional help arrives.
Stop the Bleed is for anyone who is old enough to understand what the course teaches and interested in learning how to save a life.
Participants will learn:
Basic bleeding control techniques including how to correctly apply pressure, dress a wound, apply a tourniquet to control various bleeding injuries, and basic suturing
The importance of prompt bleeding control to prevent death from hemorrhage, and
How to identify life-threatening injuries
To schedule a FREE Stop the Bleed training course for your staff or membership, please call Liz Sagely at 225-270-5821.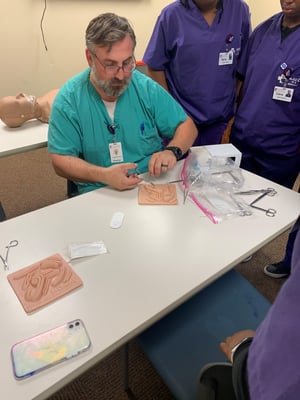 PHOTO: Dr. Jamie Bohanon with Lane Surgery Group demonstrates how to Stop the Bleed in life-threatening situations.