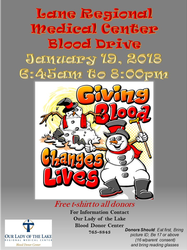 Lane Regional Medical Center is celebrating National Blood Donor Month by holding a blood drive on Friday, January 19, from 6:45 a.m. until 8:00 p.m.
January has been designated as National Blood Donor Month to encourage donors to give or pledge to give blood. First-time and regular donors are encouraged to make a difference in their communities by giving blood every January, and regularly thereafter.
Blood is traditionally in short supply during the winter months due to the holidays, travel schedules, inclement weather and illness. January, in particular, is a difficult month for blood centers to collect blood donations. A reduction in turnout can put our nation's blood inventory at a critical low.
Remember, just one pint of blood can help save up to three lives.
Use this link to make an appointment: https://www.volunteersignup.org/X333F or call 658-4574.
We will have gift card drawings as well as an extra drawing for those who make and keep an appointment.