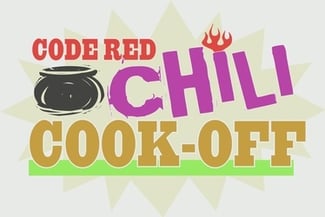 Do you make a mean bowl of chili? Is your salsa the best around? Put it to the test and join in the HOT competition at Lane RMC Foundation's 4th Annual Code Red Chili Cook-off, Saturday, October 21st, from 10 a.m. – 5 p.m., at The Pointe of Americana, 1250 Meeting Street, Zachary.
The Code Red Chili Cook-off is open to amateurs and professionals of ALL AGES and offers companies, organizations and individuals the opportunity to compete in an exciting and fun environment! There are three competition categories for cash prizes: Best Red Chili, Best Salsa and People's Choice Chili. Entry fee is $35 for one category and then $10 per additional category. Compete in one or ALL!
In addition to tasting some world-class chili, there will be craft beer tasting, a Kidz Zone, cake walk, car show and other activities. Enjoy live music featuring local artists Parish County Line, Sara Collins, and Big River Express.
Admission is FREE. The 2017 Code Red Chili Cook-off is presented by Americana, Level Homes, and Lane Regional Medical Center Foundation. Additional sponsors include Whitney Bank, Charlet Funeral Home, Quorum Health Resources and Landmark Bank. Proceeds from the event will benefit the many projects of Lane RMC Foundation.
Registration information and complete event details are available online at LaneRMCFoundation.org or by calling Theresa Payment at (225)658-6699.