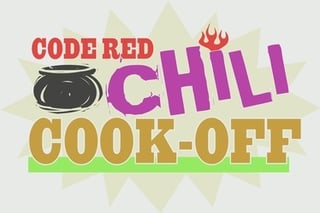 The fourth annual Code Red Chili Cook-off will be held on Saturday, October 21st, from 10 a.m. – 5 p.m., at The Pointe of Americana, 1250 Meeting Street in Zachary. Admission and parking are FREE.
By purchasing a $10 tasting band, you get to be the judge and sample chili and salsa made by local cooks! Then VOTE for the best in the People's Choice awards. In addition to the cook-offs, enjoy a FREE Kidz Zone, Face Painting, Car Show, Cake Walk, Dunking Booth, Concessions, Craft Beer Tasting, and Live Music featuring local artists Parish County Line, Sara Collins, and Big River Express. Lawn chairs and blankets are welcome.
Team entries are still being accepted, and cook-off is open to amateurs and professionals of ALL AGES. There are four competition categories for cash prizes: Best Red Chili, Best Salsa and People's Choice Chili & Salsa. Entry fee is $35 for one category and $55 for all. Compete in one or ALL!
The 2017 Code Red Chili Cook-off is presented by Americana, Level Homes, 100.7 The Tiger (a Guaranty Broadcasting Station), The Advocate, and Lane Regional Medical Center Foundation.
Additional sponsors include Breazeale, Sachse & Wilson, Charlet Funeral Home, Whitney Bank, Leader Title/Myles Law Firm, Complete Collision, John Hendry Insurance, Quorum Health Resources, Landmark Bank, Superior Ford of Zachary, and Bank of Zachary. Proceeds will benefit the many projects of Lane RMC Foundation.
Event schedule and registration information are available online at LaneRMCFoundation.org or by calling Theresa Payment at (225)658-6699.
Schedule of Events
8:30 a.m. - Head Cooks Meeting
9 a.m. - Cooking begins for Competition Chili
10 a.m. - EVENT OPENS- Let the Tasting and Voting for People's Choice begin!
10:30 – 11:30 a.m. – Sara Collins performs
12 – 1:30 p.m. – Parish County Line performs
1:45 – 4:30 p.m. – Big River Express performs
1:00 p.m. – Judging Begins
4:00 p.m. - People's Choice Ballots Picked Up
4:30 p.m. – Winners Announced
ALL DAY Activities include: Dunking Booth, Woodworker's Guild demonstrations, free samples from CC's Coffee, Craft Beer Tasting, Kidz Zone, Cake Walk, Face Painting, Car Show, and Chili & Salsa Tasting.