Lane Nursing Home
Quality Care in a Homelike Setting.
---
Welcome to Lane Nursing Home
Lane Nursing Home is proud to provide quality long-term care in the Zachary region since 1961. Our unique facility has only 38 beds and is located inside the west wing of Lane Regional Medical Center. With such close access to the technological resources and professional staff of Lane, residents are assured of immediate continuity of care should an emergency occur or hospitalization be required.
The facility is licensed by the State of Louisiana for both private pay residents as well as Medicaid recipients, and has enjoyed accreditation for 30+ years by the Joint Commission on Accreditation of Healthcare Organizations.
Our Goal
No one wants to feel as though they've lost their independence. After spending their lives caring for their own families, our residents often find themselves in the position of needing aid in their own, personal care. Our goal is to do this in a compassionate and caring manner while maintaining their rights and dignity. Lane Nursing Home assesses the current ability of each resident to perform activities of daily living and assists where necessary to maximize achievement in these activities.
Our residents are integral members of the Lane family, and their care will always be of the very highest standard.
Contact Us
The caring staff at Lane Nursing Home will be happy to answer all your questions and give you a tour of our facility. Please call us at (225) 658-6662.
Visiting Residents
We believe family interaction is extremely important for residents' rehabilitation and overall quality of life. Lane Nursing Home has an open visiting policy, and we encourage families and friends to visit frequently and participate in scheduled activities and events with the resident.
We strive to make the environment as close to a home atmosphere as possible, taking into consideration all residents and their special needs. A private visiting room is available to ensure privacy with your family member.
We also encourage interaction between families via our quarterly Family Council meetings. You and your family will be welcomed members, and your comments and suggestions are important to us as we review each resident's progress every 90 days.
Services Provided
At Lane Nursing Home, we nurture the whole person – physically, socially and emotionally – through planned activities and recreation coordinated by our patient activity coordinator. We are pleased to provide the following services for each of our cherished residents:
Planned Activities:
Crafts
Games
Birthday parties
Movies
Planned outings
Dedicated services by Lane Regional Medical Center Auxiliary
Resident Council and Family Council
Community involvement from area churches, schools and civic groups.
Support Services:
Acute medical care
Individualized care plan
24-hour nursing care
Beauty and barber shop services
Nutritional assessment by registered clinical nutritionist
Housekeeping and laundry services
Immediate access to Lane Regional Medical Center and emergency room
Whirlpool baths
Availability of eye and dental services
Continuous quality-improvement program
Overall Services:
Providing room, board, linens and bedding, skilled nursing care and various personal services.
Obtaining and administering medications and otherwise arranging services as ordered by the resident's attending physician.
Arranging for transfer to the hospital of the resident's choice when ordered by the attending physician and immediately notifying the resident's responsible party of such transfer.
Giving at least thirty (30) days advance notice should any increase in facility charges be anticipated.
Reviewing the Resident's Bill of Rights orally with resident and/or responsible party, and providing the following documents:

Resident rights
Blue Book – rights and responsibilities
Living will form
List of prohibited items
Bed hold policy letter
Photography release
Personal fund authorization letter
Medicare fact sheet
Personal inventory list
Statement of services and statement of charges/acknowledgment of responsible party
Louisiana Medicaid long term care application center information
Nursing home disclosure statement
Social Services:
A social worker is always available to assist residents and their families with concerns and will assist with financial planning through various agencies.
Medications:
You may choose pharmacies in surrounding areas to provide medications. The pharmacy must meet certain requirements:
The medication must be in the unit dose packaging system.
There must be a method by which we are able to receive medications for new prescriptions or refill current medications without interrupting dosages for the resident. If the pharmacies do not deliver, the family or designated others will be responsible to get the medication to us.
There must be a method of getting medications after business hours or on weekends when needed.
Admission Process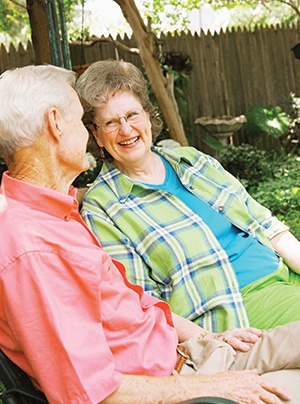 Because of our adherence to the many state laws and regulations, a few steps are necessary to ensure a smooth admission process.
Prior to admission to Lane Nursing Home, an on-staff Lane Regional Medical Center physician must be contacted to serve as your attending physician. A list of the hospital's current Medical Staff is available upon request.
Your chosen physician will then need to order a PPD (skin test for tuberculosis) and chest x-ray for the resident prior to admission, as well as conduct a physical examination and complete the statement of medical status and preadmission screening resident review (PASRR) forms. The physician will then give admission orders to our nursing staff.
The nursing home admission coordinator is available to help you with the admission process and can be reached at (225) 658-6662.
Upon admission, our staff will ask each resident if he or she has an advanced directive, as required by the Omnibus Budget Reconciliation Act of 1990 (OBRA). An advanced directive gives the resident the opportunity to make a living will or develop a health care proxy. An advanced directive is not required for admission, rather it is optional based on the resident's personal choice.
Admission to Lane Nursing Home is nondiscriminatory. In accordance with Title VI of the Civil Rights Act of 1964 and its implementing regulation, Lane Regional Medical Center and Lane Nursing Home will, directly or through contractual or other arrangements, admit and treat all persons without regard to race, color, creed, sex, age, national origin or handicap in its provision of services and benefits, including assignments or transfers within the facility and referrals to or from the facility. Staff privileges are granted without regard to race, color, creed, sex, age, national origin or handicap (where appropriate).
Billing Information
Below are answers to the most commonly asked billing questions. If you have any further questions, please call (225) 658-6662.
The private pay rate is currently available on request.
If you are already Medicaid approved for long-term care services and are transferring from another facility, you will owe the patient liability portion. If not, the private pay rate applies.
If you are admitted during the month, the fee is prorated on a daily basis for both private pay or Medicaid.
If you are admitted through Medicare, your monthly rate will vary depending on your secondary insurance coverage.
Payment is due upon admission and the 10th day of every month thereafter. Payments are made in advance.
If you are not currently Medicaid approved but will be applying, once you are accepted your initial payments will be refunded to you when payment is received from Medicaid.
Nursing home rates are adjusted annually.
The guarantor will receive a bill monthly.
Payments can be mailed or delivered to the business office.
Failure to pay monthly fees may result in discharge.
Additional information on Medicaid eligibility can be obtained from the State of Louisiana, Department of Health and Hospitals, Medicaid Eligibility Office at (877) 456-1146.
The Louisiana Long-Term Care Application Center located in Baton Rouge may be contacted at (225) 922-1543 or toll free at (800) 544-7996.
Thank you for your interest in Lane Nursing Home. Our caring staff will be happy to answer all your questions and give you a tour of our facility. For more information, please call us at (225) 658-4345.