Diabetes Management
If You Have Diabetes, You Have Questions
The onset of any chronic condition comes with a long list of questions. For those just beginning their journey with diabetes, these can include:
What is best for me to eat?
How much should I exercise?
What do I do when I feel dizzy?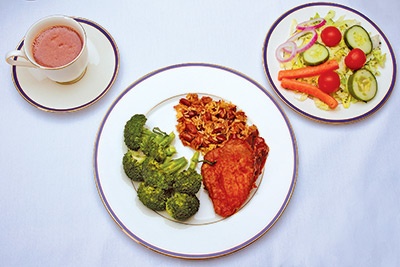 It can be both confusing and overwhelming, and the last thing you want to do is worsen your condition by making the wrong choices. You need an ally, someone experienced and knowledgeable to help guide you through those initial months.
The Diabetes Management Program at Lane Regional Medical Center is here for just that purpose and has all the answers you need to live a happy, healthy lifestyle with diabetes.
Whether you have Type 1 or Type 2 diabetes, glucose intolerance or gestational diabetes, this program is tailored to meet your specific needs.
Group education is combined with one-on-one attention, and you will learn management skills in accordance with the National American Diabetes Association Standards, such as:
Home blood glucose monitoring
Insulin administration
Proper glucagon utilization
Appropriate food choices
Meal planning
The Program Is as Easy as 1, 2, 3
Our three-step program is designed to assess your needs and the specifics of your condition, the introduce you to group settings with others in similar circumstances. Our team of professionals will help you stay on track with consultations available at your request:
Initial assessment
One-on-one counseling with a registered nurse or certified diabetes educator for a complete assessment, meal planning and medical management planning.
Group class
Comprehensive instruction on diabetes as a disease process, its complications, medical and self-management skills and diet and nutrition in a class environment. The class offers the opportunity to interact with others and learn in a relaxed atmosphere.
Follow-up consultations
Individual follow-up sessions are encouraged and available as needed with the registered nurse or certified diabetes educator and registered dietitian.
For more information, call Sherri Brady, RN, CDE at (225) 658-4583.
---
Outpatients
Recognition
The Diabetes Self-Management Education Program at LRMC is recognized by the American Diabetes Association.
Goal
Our goal is for patients to obtain self-management skills and education on the complexity of the disease, risks, and complications to improve outcomes.
Program
10 hours of education are offered, including a one hour one-on-one session and two 4.5 hour group classes.
All sessions are taught by the registered nurse, certified diabetes educator and registered dietitian.
Follow-up calls are made at three, six and 12 months.
Correspondence is sent to the ordering physician following each meeting with the patient.
If the patient fails to schedule sessions within three months, the file is closed.
System of Entry
Physician's office must complete the required Physician's Order Form provided to our office.
Fax order to LRMC Diabetes Program at (225) 658-4486
Insurance benefits will be obtained by LRMC and patient contacted for an appointment. Most insurance companies, including Medicare and Medicaid, assist with the cost of diabetes education. Diagnoses of pre-diabetes and insulin resistance are not always covered. Self-pay patients can be seen, but they must make payment arrangements with the business office.
Inpatients
The registered nurse, certified diabetes educator and registered dietitian are available Monday through Friday for inpatient diabetes education.
These health care providers receive consults by physician's order, nurse request or by a trigger from the Nursing Admission Assessment if a patient is admitted with a new onset of diabetes.
There is no charge for the registered nurse, registered dietitian and certified diabetes educator visit.
These health care providers will document in the patient notes.
Any recommendations will be left as a note on the patient's chart for the physician's review.